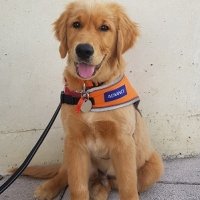 Wednesday, 13 March 2019
Sarah Evamy joined the Faculty's Educational Enhancement Unit in February, and with her came a little bundle of golden fur – Harvey, her guide dog in training. The Faculty has been supporting guide dogs in training at King Edward Memorial Hospital for the past four years. If you see a Harvey look alike at King Edward, it is indeed Harvey!
"Harvey is the fourth guide dog in training we have raised. The first and second ones are now working guide dogs and the third is in his formal training. The dogs stay with puppy raisers like us until they are about 15 months and then go and live with another boarder while they are in their formal training. So we will have Harvey until about this time next year," said Sarah.
With more than 40,000 West Australians blind or vision impaired, Guide Dogs WA provide a vital service within the local community to increase mobility, independence and quality of life for their owners.
Guide dogs are specially-trained to provide assistance to someone living with blindness or vision impairment. Purebred Labradors or Labrador/Retriever cross are most commonly used in the program as they are calm, loyal and intelligent and have a proven record in training to become guides. Harvey is a purebred Golden Retriever.
Guide dogs and those in training are easy to recognise. Harvey currently wears an orange "puppy-in-training" coat to indicate he is learning how to behave in a range of environments. He will then go on to a brown harness when he is in formal training with a Guide Dog Mobility Instructor. Guide dogs in a white harness indicate they are working with their owner.
"There are a few reasons why I got into puppy raising volunteering. One is that I can't give to the community by way of blood donation because I was living in the UK when Mad Cow Disease was rife (even though I was a vegetarian!) Also, I would hate to lose my sight and I can't imagine what it would be like not to be able to see."
"We say it's a very selfish thing we do because it's so rewarding and we love it!" said Sarah.
As cute as Harvey is, there are a few simple guidelines to follow if you see him in the office;
Please don't pat, feed, talk to, make noises at or distract Harvey, especially when he's in his training coat.
If you see Sarah outside with Harvey without his coat on, she is probably 'toileting' him so please do not distract him as 'toileting' on command is a very important part of the training.
Sarah has been trained in the most effective ways to control Harvey's behaviour, so please only provide assistance if requested.
If you are with your own pet and come across a guide dog;
Please keep your dog on a leash and under control.
If you see a working guide dog, please give it and its handler space – moving yourself and your dog away from them.
If you see an unattended dog, alert your local council.
If you need to approach a person with a guide dog, clearly introduce yourself to the person and say you have a dog with you.
Guide Dogs WA currently support 51 working guide dogs, and 36 guide dogs in training. It takes a minimum of two years and costs more than $35,000 to train a Guide and Autism Assistance Dog. As each of the dogs is provided free of charge to people who are blind or vision impaired, they are reliant on the generous support of the community to fund these programs.
If you would like more information or to support this great cause through donations or sponsoring a guide dog, visit guidedogswa.com.au .
Media references
Ms Sarah Evamy , Capability Development: +61 6488 4022
Tags
Groups

Faculty of Health and Medical Sciences