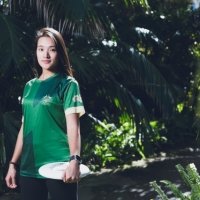 Wednesday, 6 March 2019
International Women's Day, celebrated on 8 March, is a globally recognised celebration of the economic, political and social achievements of women in the past, present and future. To celebrate the day, UWA Sport caught up with several female student athletes to hear their stories, and find out what IWD means to them.
UWA student athlete and Sports Council President Max Qua balances a busy schedule between research and sport. Having completed both a Bachelor of Science and a Master of Biomedical Science (Dist) at UWA, Max has since turned her attention to a PhD in Epidemiology.
She is researching facial fractures in Australia, analysing hospitalisation and population data to investigate the trends, causes, and economic costs of facial fractures, and making international comparisons to see what Australia can do better in terms of prevention, healthcare provision, and outreach.
Out on the sports field, the Ultimate athlete plays for the Western Australia Div 1 Women's Team (Kaos) and the Australian Women's Beach Ultimate Team (Platipy). Max is also the Assistant Coach of Bronze Bullseye, the WA Div 2 Men's Team.
Hear from Max Qua below.
International Women's Day was first marked in 1911 – over 100 years ago. What makes this day important to you?
As an athlete and an aspiring academic, I could not be where I am if gender inequality had not been addressed. International Women's Day is significant as it recognises the extensive efforts made to push for necessary and rightful change.
Were there barriers that you faced (or continue to face) as a woman to becoming successful in your sport, career, and studies? How did you overcome them?
I have been fortunate, as I don't think I've had to face barriers that have significantly hindered my success. I'd like to share a small, sub-conscious barrier I placed upon myself: I never used to describe myself as an athlete because I didn't think I deserved that title: in my mind, the image of an athlete was akin to a tall, male footy player. This perception was something I reassessed when I realised my team mates and I train as much as if not more than many men whom I wouldn't hesitate to classify as athletes. Now I am proud to call myself an athlete, and I wish to see more women owning their identities.
Who is your biggest female influence or icon?
I am very privileged to have had the support of some incredible team mates, coaches, teachers, and academics (of both genders), so it's impossible for me to choose just one! All of the amazing women around me work extremely hard and constantly strive to better themselves. For some of them, that means putting in extra gym sessions to recover from injury and for others, it means going the extra mile to get a paper published or making the time to help a student. It's humbling to be able to learn from them and I am constantly inspired by their drive and passion for what they do.
What advice did you receive early in your sporting career that has stayed with you?
Being a successful athlete is about the things we do when we are on our own. I have realised that personal accountability and discipline make all the difference come game day.
Based on your own experience, what advice would you give to women considering pursuing a career in sport?
I would advise young athletes to do the hard things and appreciate every moment: we don't have to do it; we get to do it. I feel this is especially pertinent on International Women's Day, as it puts in perspective how far we have come; it makes me grateful for what I have, inspiring me to persevere towards my goals.
What is the most courageous thing you have heard or witnessed a woman doing on the sports field and why?
In Ultimate, athletes make some amazing plays to maintain possession, score goals, or cause a turnover on defence. We call these dives "lay-outs", and some of them are seriously awesome. Often, laying out is associated with the men's game; however, some of the best lay-outs I've ever seen have come from women - notably one I saw live in the Women's Grand Final of the World Ultimate Club Championships in the US last year. The Colombian Women's Team was playing the American reigning champions, and I got to see a ridiculous lay-out catch on AstroTurf (ouch!) for a goal. It was more than just a physical play though: to me, that lay-out represented the entire team's passion for the sport and how much grit these women had, and the crowd's applause represented a genuine appreciation not for an amazing female athlete, rather for an amazing athlete.
The International Women's Day 2019 campaign theme is "Balance for Better" – what does this mean to you?
In a sporting context, balance to me means seeing all athletes given the same amount of funding, support, and opportunities. I'd like to see more balance when it comes to societal enthusiasm and participation across the gender divisions. We ought to strive towards balance for better and empower women through sport.
What do you think is the biggest issue today facing women of your age?
I think there are unspoken (and sometimes spoken) societal expectations that some of us may feel pressured to meet. There are times when we make sacrifices to meet these expectations simply because it feels like the "right thing to do". I want to encourage all women to excel in their fields of choice and to do so of their own volition and determination.
Media references
Louis Humberstone
UWA Sport Marketing, Communication, and Events Coordinator
6488 4309
Tags
Channels

Sport

Groups

UWA Sport