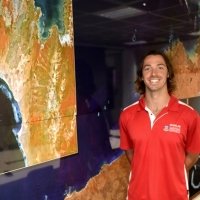 Tuesday, 5 March 2019
The University of Western Australia has a continual roll call of awards, scholarships and prizes presented to staff and students.
To recognise these achievements, an article is published on the UWA news page on the website and in UWA Forward on the first week of every month. If you know of great awards or achievements across the University please email [email protected]
Name: Philip Brown, Emeritus Professor and Senior Honorary Research Fellow, UWA Business School
Achievement: Philip won the Wharton-Jacobs Levy Prize for 2019. This award recognises peer-reviewed articles that demonstrate outstanding quantitative research contributing to innovation in finance.
Name: Justin Geldard, UWA coastal engineering student
Achievement: Justin has been awarded a Keiran McNamara World Heritage PhD Top Up Scholarship. The prestigious scholarship is handed out each year to one lucky recipient form one of five Western Australian Universities. It aims to further knowledge and expertise of conservation and management of World Heritage areas in WA by attracting the next generation of outstanding intellects to the State.
Name: Melissa Grove, Josh Connor, Mark Alchin and Bayode Ero-Phillips, UWA Business School MBA team
Achievement: The team have won the 2019 Schulich International Business Case Competition in Toronto, for their assessment of United Nations sustainability goals in terms of their relevance and application to the contemporary and future mineral resources sector. The UWA team, under the name of Next Gen Resources, highlighted the critical importance of UN Sustainability Goal #3, "Good Health and Well-being".
Name: Future Students Centre, UWA Brand, Marketing & Recruitment
Achievement: The Future Students Centre has won the Association of Tertiary Education Management award for Customer Service Excellence. By taking the title of Winners in the 2019 ATEM Customer Service Excellence Award, the Future Students Centre team have proven themselves to be highly competent course advisors and excellent customer service champions.
Name: Jill Benn, UWA Librarian
Achievement: Jill has achieved the status of Principal Fellow of The Higher Education Academy in recognition of attainment against the UK Professional Standard Framework for teaching and learning support in higher education.
Congratulations UWA staff and students.
Media references
Jess Reid (UWA Media and Public Relations Advisor) 08 6488 6876
Tags
Channels

Media Statements — University News