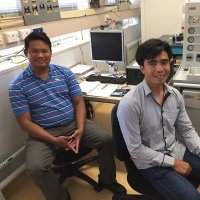 Friday, 1 March 2019
The University of Western Australia is hosting three international researchers, two from Myanmar and one from the Philippines, in partnership with International Atomic Energy Agency (IAEA) and the Food and Agriculture Organisation (FAO). The researchers are visiting the West Australian Biogeochemistry Centre (WABC) in the School of Biological Sciences between 18 February and 16 March 2019.
The joint IAEA/FAO research and training programmes are run by the United Nations, with more than 500 research institutions in Member States cooperating across a range of projects. Each project aims to increase research capabilities and solve specific, practical problems of agricultural or environmental significance to developing countries using nuclear and stable isotope techniques.
Myanmar researchers Dr Thiha Thaw and Dr Ngyein Min Zaw, are working on the Lake Inle conservation project, focusing primarily on distinguishing sources of pollutants and assessing the impact of agriculture on water quality and nutrients budget.
"I was aware that the isotope techniques are extremely useful in addressing environmental issues. Therefore, I wanted to know more about the principles and the applications" Dr Zaw said.
"I hope this training will set us in the right direction in learning more about the techniques and using them to discover solutions to pressing environmental issues in Myanmar."
"My first impression about the visit to UWA was very positive. Everyone at the WABC made me feel relaxed and completely at home." Dr Thaw said.
Filipino researcher Mr. Wilfren Clutario is using stable isotopes and bioindicators to detect the impact of typhoons on marine environment pollution in the Tacloban region, which was destroyed by the superstorm Haiyan in 2013.
"This is a great opportunity for me to gain knowledge and know-how about stable isotope techniques from world-renowned experts. I'm very sure everything I'll learn during my stay at UWA will be of great help to my fellow countrymen back home especially, our environment and for our food security." Mr Clutario said.
The research visit is hosted by Dr Greg Skrzypek with support from the WABC team: Dr Pauline Grierson (Director), Doug Ford (Senior technical officer) and Kate Bowler (Technical assistant) and coordinated by Megan Tracey, IAEA International Liaison to Australia from Australia Nuclear Science and Technology Organisation.
Media references
Dr Greg Skrzypek (School of Biological Sciences) (+61 8) 6488 4584
Sarah Shimizu (UWA Marketing Officer) (+61 8) 6488 4727
Tags
Channels

International — Research — Science

Groups

School of Biological Sciences — Science Matters