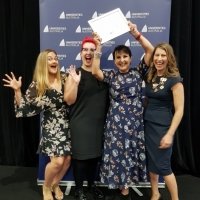 Tuesday, 26 February 2019
A University of Western Australia program designed to improve students' health and wellbeing, their experiences and learning support services has taken out a top honour in the nation's most prestigious teaching awards.
The Australian Awards for University Teaching honour outstanding teachers and educators across the country in the Australian higher education sector.
UWA was recognised in the awards for the Fit For Study program which won an award for Programs that Enhance Learning and was one of 13 awards presented.
Fit For Study was established in 2002, recognising health and wellbeing as having a positive impact on student engagement and study and that students are positively influenced through an enriched and supportive learning environment.
The program is student-centred with a focus on peer education, mental health, sexual health, sexuality and relationships and alcohol and drugs.  Through the education, training and early intervention initiatives students were provided with opportunities to expand their knowledge and skills to benefit their health and wellbeing.
UWA Project lead Tricia Wylde said it was wonderful to see the program recognised in the national awards and the passion and dedication of the team involved acknowledged.
"The peer education component of the program has been instrumental in engaging students and providing them with critical knowledge, skills and confidence that they can apply to their coursework, as well as take with them into the workplace and their personal lives," Ms Wylde said.
Also acknowledged in the awards was Professor Peter Merrotsy from the UWA Graduate School of Education for a citation on his outstanding contribution to student learning through his approach to motivating and inspiring students to learn.
UWA Vice-Chancellor Professor Dawn Freshwater said the awards highlighted the University's commitment to creating a positive learning environment for students.
"We invest a lot of time into creating engaging and rewarding programs for students not only to support them in their studies but to help them develop important life skills," Professor Freshwater said.
"To be acknowledged in these national awards is a great honour for the University and is testament to the hard work of staff, teachers and researchers all working together to provide a world-class student experience."
Media references
Jess Reid (UWA Media and PR Adviser) 08 6488 6876
Tags
Channels

Arts and Culture — Media Statements — Students — Teaching and Learning — University News

Groups

Faculty of Arts, Business, Law and Education — Teaching and Learning