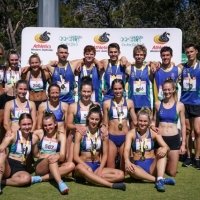 Tuesday, 19 February 2019
The 2019 WA State Track and Field Championships was a stellar weekend of competition for many UWA athletes, with plenty of stand-out performances.
The Championships saw hundreds of athletes, including interstate and international visitors, descend on the WA Athletics Stadium for the three-day competition.
The UWA Athletics Club had one of their best years ever, beating last year's State medal total of 126 medals with a huge 138 medals including 63 gold.
UWA student athlete Grant Szalek was in winning form, with a gold medal 2.20m leap in the Open Men's High Jump and a second gold in the Open Men's Triple Jump title on Day 1.
Grant's performance is a 2019 World University Games qualifier and he'll now turn his focus to the 2019 Australian Championships to stake his claim for selection.
With Kurtis Marschall currently competing in Poland, it was left to the club's three other star pole vaulters to battle it out for the top spot.
It was Angus Armstrong who took the gold, with Stephen Clough in second place, and Declan Carruthers rounding out the podium.
Club captain Alanah Yukich took out the 200m and 400m sprints, as well as the 400m hurdles, while student athlete Ben Chamberlain was the men's 1500m champion.
Young athlete Jackson Hamilton continues to break records and the Championships provided another chance for him to do so.
Jackson set new personal bests and Australian Records in the Under 18 Para Men's Discus and the Under 20 Para Men's Javelin with 50.20m and 47.67m respectively.
Next on the radar for many athletes is the 2019 Australian Athletics Championships, which will provide them with a chance to prove themselves on the national stage.
Media references
Louis Humberstone
UWA Sport Marketing, Communication and Events Coordiantor
6488 4309
Tags
Channels

Sport

Groups

UWA Sport