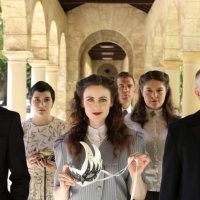 Wednesday, 13 February 2019
The Graduate Dramatic Society's production of William Shakespeare's "The Merchant of Venice", directed by Lucy Eyre.
Who will win Portia's hand? The heiress to a large fortune is forced into marriage by an unorthodox method, stipulated by her late father, attracting suitors from all over the world, including Bassanio, which sets in motion a fateful transaction. The merchant, Antonio, must default on the large loan from Shylock, the Jewish moneylender he abused, but instead, the vengeful creditor demands a gruesome payment. A thrilling climax that tests the laws of Venice at a time when the rise of fascism in Europe threatens to quash the bohemian lifestyle of Venetians, and to embolden anti-Semitic attitudes that are waiting to surface.
Adapted and directed by WAAPA graduate Lucy Eyre, this contemporary production of "The Merchant of Venice" is set in 1938. Don't miss one of Shakespeare's most important plays performed on a unique stage: The New Fortune Theatre at the University of Western Australia, which is a reconstruction of the Fortune Playhouse built in London in 1600.
When: 7-10 March and 13-16 March 2019, 7.30pm
Where: The New Fortune Theatre, University of Western Australia, 35 Stirling Hwy, Crawley, 6009.
For more information and to get tickets, go to https://www.ticketswa.com/event/merchant-venice
Media references
The Graduate Dramatic Society (GRADS)
Enquiries: [email protected]
Website: https://gradswa.blogspot.com/
Visit our Facebook page: https://www.facebook.com/groups/gradsuwa/
GRADS specialises in presenting plays from the classic repertoire, ancient, traditional and modern, inviting regular theatre goers, students and lovers of dramatic literature to see the best plays ever written, performed live and at affordable prices, in a professional theatre. It mentors people with an interest in theatre in all aspects of production and engages professional and amateur directors of expertise.
Tags
Channels

Alumni — Arts and Culture — Events — Regional — Students

Groups

Convocation Conversations