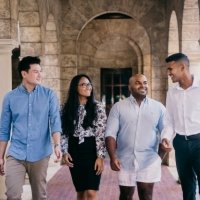 Tuesday, 12 February 2019
Four UWA students have made it into the finals of the Top 100 Future Leaders Competition being held in Sydney on Wednesday 13 February. The competition aims to bring together aspiring graduates and future graduate employers.
The promising future leaders from UWA are finalists in the following award categories; corporate and commercial law, mechanical and electrical engineering, business and management, and economics and finance.
"I have developed a diverse set of skills while studying my engineering degree that make me a strong team member and future leader," says Khush Dodhia-Shah, Mars Mechanical and Electrical Engineering award finalist. "I am incredibly proud to be representing Western Australia and UWA in my award category."
To make it to the finals the students had to submit a written application for their award category and then make it through psychometric and cognitive testing, as well as a video interview.
Protivit Business and Consulting award finalist, Christine Manungas, explains that "The essence of being a leader is being able to make decision on all dimensions of information including the finer details, and being prepared to encounter challenges as a team."
The Top 100 Future Leaders Competition is run by GradConnection in conjunction with Australian Financial Review (AFR). Find out more here .
Media references
Hannah Carlisle (UWA Marketing Officer) (+61 8) 6488 5079
Tags
Groups

Faculty of Engineering and Mathematical Sciences