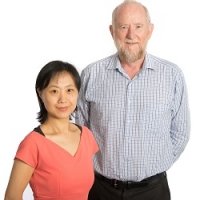 Monday, 11 February 2019
A team from The University of Western Australia that has developed a new way of analysing genetic data to determine the risk of diseases such as cancer and heart attack has been selected to develop their technology through the prestigious CSIRO ON Accelerate program.
The CSIRO ON Accelerate program brings together the experience and expertise of established researchers, entrepreneurs and inspiring mentors, through a structured program to help scientists turn their ground-breaking research into real-world solutions.
Kicking off this month, the program includes teams from major Australian universities, as well as from within CSIRO, exploring pioneering technologies in health, robotics, education, and farming.
UWA Research Fellow Sylvia Young and colleague Professor Grant Morahan from the Centre for Diabetes Research and the Harry Perkins Institute of Medical Research represent one of only nine successful ON Accelerate teams that will be part of the program.
Doctor Young said Advanced Genetic Diagnostics technology was the best currently available to identify which patients were most at risk of a heart attack or dying of cancers such as melanoma.
"We will be working to make our complex genetic testing available so doctors can predict a person's future health outcomes with far greater accuracy than before," she said.
"Many companies talk about precision medicine, but we are the only team that has developed the technology to do this for a wide range of common diseases."
UWA Deputy Vice-Chancellor (Research) Professor Robyn Owens congratulated the team on their selection and said the research would make a key impact on one of the biggest medical challenges facing scientists.
"Developing better ways to treat illnesses that are the biggest killers globally is critical for the future of medicine and this project is an important step on the journey towards achieving this," she said.
Media references
Jess Reid (UWA Media and PR Advisor) 08 6488 6876
Doctor Sylvia Young (UWA Research Fellow) 6151 0952
Tags
Channels

Media Statements — University News