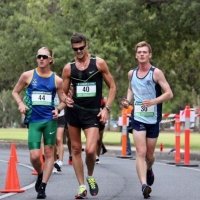 Monday, 11 February 2019
UWA student athlete Declan Tingay looks set to compete at the World University Games after making the qualification mark at the recent Australia 20km Race Walk Championships.
The 19-year-old was the fourth Australian to cross the line, less than 6 minutes behind Australian legend Dane Bird-Smith, who finished in second place.
Declan was set with an entry standard of 1:26:30 to make the Austrlian World University Games Squad, finishing just inside with a time of 1:26:22.
He continues to impress, setting a new 10,000-metre Australian junior record in July last year.
In 2019, the World University Games will be held in Napoli, Italy, and see more than 8000 student athletes from around the world compete in events that rival the Olympics in terms of importance.
Athletes will compete over two weeks from 3-14 July.
Media references
Louis Humberstone
UWA Sport Marketing, Communication and Events Coordinator
6488 4309
Tags
Channels

Sport

Groups

UWA Sport