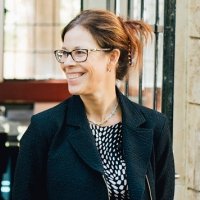 Wednesday, 6 February 2019
This article is reprinted with the permission of The Australian newspaper. It was published on Wednesday 6 February 2019.
University of Western Australia vice-chancellor Dawn Freshwater is the new chair of Australia's elite university body, the Group of Eight, but nothing in her upbringing would have suggested this was her calling
She grew up in the English Midlands, left school at 15 to help look after her two younger brothers when her parents became ill, and got a job at 16. It never crossed her mind to think of herself as clever, with intellectual potential, she says.

At 18, she decided to return to education, driven by her desire to work in the health field, and sat a test to enter a sub-degree course for nursing. She would have been satisfied with reaching the bare minimum to get a place.

"In fact I did much better than I had anticipated," she says, and was offered a place in a longer, higher level course. She then articulated into a double degree at the University of Manchester, in nursing and education. "It was quite a long route. For the first three years of my degree, I was working as well. I was a mature student, working part-time, with a family," she says.

Her part-time job involved running a busy GP practice as one of the partners as well as a nurse practitioner. Her experience gives her an insight into a student's lot today, when many are juggling part-time work and a lack of income, particularly those coming from lower socioeconomic backgrounds.

"I sort of understand the pressures current students are under," she says. While doing her double degree, Professor Freshwater became fascinated by research and in her honours year investigated a genetic mutation that causes ovarian cancer.

"We developed a blood test which now is used to screen for ovarian cancer, which has saved lots of lives," she says. "That was my honours thesis. It really lit my fire in terms of understanding the relationship between education and research and improving lives and making a difference."

She holds it up now as an example of why she believes it is important that universities do research and introduce undergraduates to research programs. After her undergraduate degree, Professor Freshwater turned to a different field and completed a doctorate in educational psychology.

She also worked as a clinical academic and spent some time involved in efforts to improve mental healthcare in prisons. She moved towards university administration and was a pro vice-chancellor at the University of Leeds when she won the job as deputy vice-chancellor at UWA in 2014. She became vice-chancellor in 2017.

Her career was not planned and, looking back, she finds it "somewhat amazing". Now she faces the challenge of an election year in which universities will find themselves under yet more funding pressure.

"We need to demonstrate how research universities continue to contribute to the broader good," she says.
Media references
David Stacey (UWA Media Manager)                                                    08 6488 3229/ 0432 637 716
Tags
Channels

Appointments — Media Statements — University News