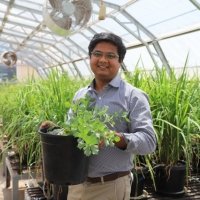 Tuesday, 5 February 2019
The University of Western Australia has a continual roll call of awards, scholarships and prizes presented to staff and students.
To recognise these achievements, an article is published on the UWA news page on the website and in UWA Forward on the first week of every month. If you know of great awards or achievements across the University please email [email protected]
Name: Students Angus Jacoumis, Lisa Lund, Izzuddin Shah and Hui Sun from the UWA Business School.

Achievement: Four UWA students studying the Consumers around the World unit at the UWA Business School are part of the winning teams selected in the 2018 X-Culture Competition. The teams were presented with an international business challenge and asked to develop a solution. 5,216 students from 148 universities in 37 countries took part in the competition.
Name: Asad Prodhan, Adjunct Research Fellow, UWA School of Biological Sciences

Achievement: Dr Prodhan has been awarded the Japan Society for the Promotion of Science Postdoctoral Fellowship. He joins a global cohort of highly qualified early career researchers with colleagues at Japanese universities and research institutes.
Name: Professor Jane Balme, Head of UWA School of Social Sciences

Achievement: Professor Balme has been elected by The Australian Academy of the Humanities as an outstanding scholar from University to the Academy, the highest honour in the humanities in Australia. Professor Balme hasundertaken significant research into Australian archaeology and Indigenous societies.
Name: Professor Helen Milroy, UWA Centre for Aboriginal and Dental Health

Achievement: Professor Helen Milroy has become the AFL's first Indigenous commissioner following her appointment to the AFL Commission. She is the third woman on the current commission and has a strong background in mental health.
Name: Jill Sweeney, Winthrop Professor, UWA Business School

Achievement: Professor of Marketing Jill Sweeney has been awarded the Australian and New Zealand Marketing Academy (ANZMAC) Distinguished Researcher of the Year Award for 2018. This award is in recognition of a lifetime of achievement in scholarly research to the international marketing research community.
Name: Associate Professor Lynette Fernandes, UWA School of Biomedical Sciences

Achievement: Professor Fernandes has received a Senior Fellowship to Advance Higher Education Academy. She has demonstrated a record of effectiveness in teaching and learning, organisation, leadership and management.
Name: Anna Waterreus, Research Assistant Professor, UWA Medical School

Achievement: Professor Waterreus has been awarded a Schizophrenia International Research Society Travel Award to present her work in Orlando on cardiometabolic health in people with a psychotic illness. The award also provides mentorship to awardees.
Name: Dr Verena Schoepf, Research Fellow, Oceans Graduate School and UWA Oceans Institute

Achievement: Dr Schoepf has been selected for the next Superstars of STEM program. Superstars of STEM aims to eliminate society's gender assumptions about scientists and increase the public visibility of women in STEM.
Name: UWA recognised for defence research

Achievement: The University has been recognised for its defence research collaboration at the annual Australian Industry and Defence Network of WA awards. As part of an industry collaboration with Maritime Pumps Australia, UWA was the research collaborator, winning the Industry Collaboration Award for developing a WA base to manufacture marine pumps for defence navy vessels.
Congratulations UWA staff and students.
Media references
Jess Reid (UWA Media and Public Relations Advisor)                                (+61 8) 6488 6876
Tags
Channels

Media Statements — University News

Groups

School of Biological Sciences