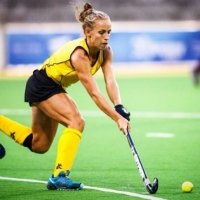 Friday, 1 February 2019
Hockeyroo Georgia Wilson will make her international return at this weekend's FIH Hockey Pro League in Melbourne after she was confirmed in Australia's 18-member squad for the matches with the Netherlands and Belgium.
The popular West Aussie has spent a year on the sidelines after suffering an ACL injury in January 2018, but her return will buoy the Australians ahead of their first taste of the new home and away international series concept.
In a social media post, Wilson said she was excited to play for Australia again after what had been a long and challenging year of rehab.
Her coach Paul Gaudoin said it would be a boost to have Georgia and another long-term injury absentee Mariah Williams returning to the fold.
"It's fantastic for Georgia and Mariah. They've had long-term injuries, Georgia with her ACL and Mariah with her groin.
"They've put in a lot of hard work so it's pleasing we've been able to select them for the games in Melbourne," he said.
She will be joined in international duty by Kookaburras WA squad members Trent Mitton, Jake Harvie and Aran Zalewski.
Saturday and Sunday will see international doubleheaders, with the Kookaburras in action at midday against the Netherlands (Saturday) and Belgium (Sunday) with the Hockeyroos scheduled to follow the same pattern at 3pm on both days.
Media references
Orginally published by WAIS , Thursday 31 January 2019
Louis Humberstone
UWA Sport Marketing, Communication and Events Coordinator
6488 4309
Tags
Groups

UWA Sport