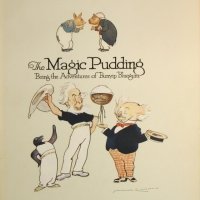 Thursday, 31 January 2019
Did you read The Magic Pudding as a child? This much loved Australian classic by Norman Lindsay was published over 100 years ago.

The Norman Lindsay's classic follows the adventures of koala Bunyip Bluegum, sailor Bill Barnacle and penguin Sam Sawnoff, owners of the much desired Magic Puddin', Albert, who try to outwit Possum and Wombat, the professional and persistent "puddin' thieves".

On display in the Reid Library exhibition cabinets until March are several editions of the book including a first edition recently acquired by Special Collections.
Media references
University Library +61 8 6488 7425
Tags
Groups

University Library