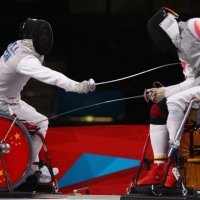 Tuesday, 29 January 2019
Fencing is often likened to as a physical game of chess as competitors square off in a test of both physical and mental capabilities. Over a 70 year history UWA Fencing Club has been the home for University students, and more recently the general public, with a passion for the sport.
Now the Club have taken steps to introduce a wheelchair fencing program with a bid to increase the inclusivity of the sport.
UWA Fencing Head Coach Tuko Maia recognised the lack of opportunities for Australian para-athletes in fencing and has worked to introduce wheelchair fencing to the Club.
Tuko, a former international fencer, was invited by the Brazilian Olympic body to be part of the tournament management team at Rio 2016 for both Olympics and Paralympics. During this time he established a number of contacts in the para-fencing world.
Tuko also works as a Sports Physiologist at Charles Gardner Hospital, with involvement in disability and rehabilitation issues.
The Club now have two teenage members as their first wheelchair fencers, and are on the lookout for more para-athletes.
"UWA Fencing Club is building the infrastructure and capacity to ensure para-fencing will continue to be available at the Club in the future," said President Ben Peden.
"We would very much like to re-introduce State and national para fencing competition as part of the current Australian Fencing Circuit competitions, and ultimately our aim is to provide pathways for wheelchair athletes to compete at the Paralympic level."
Wheelchair fencing was a fixture of the first Paralympic Games in Rome, 1960, and has gone on to be a thrilling and competitive event.
In wheelchair fencing, men and women with amputations, spinal-cord injuries and cerebral palsy compete in foil, epee (men and women), and saber (men) events. Their wheelchairs are fastened to the floor during competition.
UWA Fencing Club will have a new beginner's course for both ambulate and wheelchair participants starting on Monday 25 February, 6:30pm, at the International Martial Arts Centre and Gym at UWA Claremont.
"UWA Fencing Club is an inclusive club that is always looking for ways to provide opportunities for more students and the broader community to participate," said Ben.
The first session will be a free 'have a go' opportunity for new members and those interested in trying fencing.
Media references
Louis Humberstone
UWA Sport Marketing, Communication and Events Coordinator
6488 4309
Tags
Channels

Sport

Groups

UWA Sport