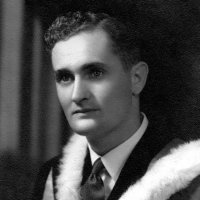 Wednesday, 23 January 2019
Alexander McBride Kerr occupied many roles over his 97 years: great grandfather, journalist, RAAF pilot, prisoner of war, consultant to the United Nations and foreign governments– and at one point, Dean of UWA's Faculty of Economics and Commerce – to name a few.
When he passed away late last year, former colleagues and students remembered him as a great teacher and a gentleman.
Having to leave school during the depression, he joined WA Newspapers as a trainee, but Kerr's ambitions to become a journalist were abruptly interrupted by World War II. He joined the army in 1936, then the Air Force in April 1940, becoming an RAAF pilot with 115 Squadron (RAF). While flying above Germany in 1941, his plane was shot down. A badly wounded Kerr managed to parachute out and was taken to a POW hospital and seven months later to a POW camp, where he studied with the help of the Red Cross.
His captivity was broken by various attempts at escape, including a tunnel escape that was, at the time, the biggest of the war. His third attempt – during a Death March in 1945 – proved successful, and he miraculously made it back to London. Much later, in 2015, he would publish a book ( Shot Down ) based on a diary he kept during his war years.
Upon returning home in 1945 Kerr enrolled at UWA where, during the course of his student years, he was a member of the Guild Council, President of the Arts Council and Vice-President of the University Liberal Party. He played cricket for UWA and founded the UWA Baseball Club; at one point, his team included Laurie Sawle (future Chairman of Selectors of the Australian test cricket team), Bob Hawke and Rolf Harris.
He earned a Bachelor of Arts (with first class honours in Economics), Master of Arts and PhD. His PhD in Economics, gained in 1956, was the first awarded by UWA's Faculty of Arts. His thesis on income estimation attracted attention in Canberra and in America, for it was breaking new ground internationally, in the newly developing field of national income estimation.
It was the beginning of a fruitful academic career.  Initially appointed to a temporary lectureship in the Department of Economics, Kerr remained with UWA until 1975.
He rose to become a senior lecturer and, in 1960, he visited the United States. There, he lectured at multiple American universities and developed the first income estimates for the state of Texas. In 1961 he established the Australian and New Zealand Section of the Regional Science Association and in 1963 published Regional Income Estimation: Theory and Practice (UWA Press).
Three years later, he took a leave of absence to act as an Economic Consultant to the United Nations Economic Commission for Asia and the Far East in Bangkok.
Roles as a Reader and Acting Head of the Department of Economics followed, before he was appointed as Dean of the Faculty of Economics and Commerce from July 1972 to June 1973.
During the 1970s he taught some of the State's brightest young economists. Professor Phil Hancock, now Associate Dean (Teaching and Learning) in the Faculty of Arts, Business, Law and Education, was a young 19 year old in Kerr's Economics 20 class.
"Alex was a great teacher and a real gentleman. As a teacher he always had time to explain concepts or problems and this was greatly appreciated by me and my friends," Professor Hancock recalls.
In 1975, Professor Kerr resigned from UWA to take up an appointment as foundation professor of economics at Murdoch University where he later became deputy vice chancellor.
In his latter years, he continued to consult to government agencies and international organisations in 20 countries. He was also heavily involved in industry and community organisations, including as the foundation chair for the Consumer Affairs Council of Western Australia, and as director of several companies in Indonesia and Singapore.
In 2004, Kerr was made a Member of the Order of Australia and, in 2006, he received an Honorary Doctorate in Economics from UWA in recognition of his vision and efforts in forging strong links between the University, government and the business community.
Alex also had a very happy marriage and family life.
UWA Vice-Chancellor Professor Dawn Freshwater says Professor Kerr left a lasting legacy for the University.
"Alex Kerr was a pioneer in Economics education and his portrait hangs in the Business School in recognition of his many contributions," Professor Freshwater said.
"He lived a very full life and brought his rich experiences into the classroom, to the great benefit of generations of students.
"The University extends its condolences to Alex's family."
Kerr's motto in his latter years was 'Life is wonderful' – an apt summary of the way in which he approached his life and career with an optimistic and positive energy. He will be greatly missed by his friends and former colleagues.
Read more about Alexander McBride Kerr's life in The West Australian .
The 1947 UWA Ball.


The 1948 UWA Baseball team (Alex Kerr centre front).
Kerr receiving his honorary doctorate from UWA in 2006.
Tags
Groups

UWA Forward