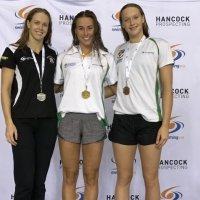 Wednesday, 23 January 2019
The 2019 Western Australian Swimming Championships will be one to remember for many UWA West Coast Athletes, with outstanding performances displayed by both star and up-and-coming swimmers.
Fresh from his display in the World Short Course Championships in December, Nic Brown secured gold in the 100m and 200m Butterfly, going head-to-head in both races against Japanese swimmer Kai Inoue.
Nic's UWA-West Coast team mate Ashton Brinkworth clinched victory in the 50m Butterfly, with just 0.14 seconds separating the UWA students.
Ashton also impressed with gold in the 100m Freestyle, taking Olympian Tommaso D'Orsogna 's 18-Years WA All Comers and 18-Years WA Residential Records.
The UWA student athlete secured a third gold in the 50m Freestyle, just ahead of UWA West Coast team mate Jonte Blake .
Brianna Throssell kept to her winning ways, battling it out against UWA alumni Holly Barratt in the 100m, breaking her own WA Residential Record as she won the gold.
Brianna was outstanding on night two of the Championships; she secured first place in all of her events, including the Women's 400m Freestyle (4:13.75), 100m Butterfly (59.36) and the 50m Freestyle (25.18), breaking her own records along the way.
Alex Milligan was also out breaking records, setting a residential record in the Men's 200m Breaststroke with a time of 2:12.51.
The UWA student athlete also broke the WA Residential Record for the Men's 200m Individual Medley. The record was previously held by past Olympian Adam Lucas and had not been beaten in 15 years.
Alex joined the UWA West Coast Team of  Joshua-Edwards Smith, Nic Brown and Ashton Brinkworth to come in first in the Men's 4x100m Medley Relay in a time of 3:42.18. The time saw them beat the WA AC Club, WA Residential State and WA Residential Club Records.
Both the men's (Ashton Brinkworth, Jonte Blake, Tomasso D'Orsogna and Alex Milligan) and women's UWA teams ( Blair Evans , Kara Broadbridge , Jemima Horwood and Brianna Throssell) also won the 4x100m Freestyle Relay, with the women's winning ahead of the visiting Japanese team in a WA All-Time State, WA AC Club, WA All-Time Club,  WA Residential State, WA Residential Club Record.
UWA West Coast finished the tournament with the Summer Metro Shield, reflecting  their performances over the recent State Age Championships and the WA Swimming Championships.
The Australian Swimming Championships will be held at the South Australian Aquatic and Leisure Centre from April 7-12.
Media references
Louis Humberstone
UWA Sport Marketing, Communication and Events Coordinator
6488 4309
Tags
Groups

UWA Sport