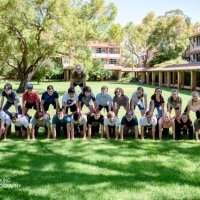 Tuesday, 15 January 2019
A week-long summer camp has officially started with 60 Year 9 and Year 10 high school students from remote areas of Western Australia and South Australia arriving at The University of Western Australia.
The summer camp, digIT, is organised by the Australian Mathematics Trust and is designed for students who are most at risk of falling behind in the digital age and show an aptitude in Science, Technology, Engineering and Mathematics (STEM) and Information and Communications Technology (ICT) themes.
The students have come from rural towns including Kalgoorlie, Esperance, Safety Bay and Collie.
Dr Tim French, Senior Lecturer of Computer Science and Software Engineering, welcomed the students on campus and spoke about UWA's investment in developing leading technology for tomorrow's users.
"A career in information and communications technology can enable you to tackle technology challenges and devise innovative solutions to transform the way we live," Dr French said. "We want to make sure that the ability to learn these skills are accessible to students from all over WA."
In a fun and supportive environment, the students will grow in confidence and ability whilst expanding their critical thinking, programming and problem-solving skills. Activities include robotics, games design, website design and coding.
Over the next four days the students will make new friends, be exposed to outstanding role models, practise new skills, and deepen their understanding of what their future may hold in field of ICT.
Media references
Hannah Carlisle (UWA Marketing Officer) (+61 8) 6488 5079
Tags
Groups

Faculty of Engineering and Mathematical Sciences