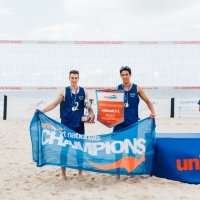 Wednesday, 19 December 2018
UWA crowned West Champions at new-look Nationals
A team of over 80 UWA athletes travelled to the Gold Coast to compete in the 2018 Australian UniSport Nationals Div 1, Australia's largest annual multi-sport event. Our students competed against elite student athletes from over 40 university teams across the country.
The UWA athletes came from a diverse range of sports, including basketball, beach volleyball, kendo, judo, athletics, futsal, indoor volleyball, ultimate, rowing and fencing. Team UWA was crowned eventual Champions of the West at the end of the week-long competition.
Marathon kayaker named Sports Star of the Year
Marathon kayaker Josh Kippin was named 2018 UWA Sports Star of the Year. Commencing 2018 ranked inside the top 10 Marathon Kayakers in the world, Josh was announced as Australian Canoe Marathon Paddler of the Year (Open Male), and placed 2nd in Men's K1 and K2 30km at the Australian Canoe Championships.
Locally, Josh is the WA State Canoe Champion in 10km K1 and K2, was awarded a UWA Convocation Award, and broke a decade-long state record in winning the single marathon kayak race at the Avon Descent. 154 kayakers, canoeists and paddlers finished the 124km race from Northam to Bayswater, with Josh finishing over 2 minutes ahead of second place.
Josh is currently studying Master of Business Administration, and over the last three years he has progressed from Top 20 to Top 10, and now chasing podium at World Championships for Men's K1 Marathon Kayaking.
UWA join National Women's Uni Sevens rugby competition
The University of Western Australia will field a team in the national Aon Women's Uni 7s rugby competition next year.
The Aon Women's Uni 7s Series is the first domestic Australian sevens competition for women, offering the nation's rising talent the opportunity to train and play in a high performance environment to stake their claims for national selection.
The UWA team will include 17-year-old 7s star player and Australian Youth 7s representative Courtney Hodder and first-year UWA psychology student Tanei Daniels.
After learning of the University's involvement in the sport, student Zoe Gillard code-hopped from AFL and quickly found herself in the RugbyWA Youth Girls 7s team only a month after being introduced to the sport.
The semi-professional squad, which is due to start training this month, aims to have 12 professional rugby players and 12 UWA students and will be based at UWA Sports Park.
Record number of athletes join Student Athlete Development Program
This year was the strongest ever for the UWA Student Athlete Development Program, which included a total of 120 athletes. Our elite athletes come from a variety of sports, including athletics, beach volleyball, gridiron, wushu and more.
It was an outstanding year for Bailey Banfield, who balanced his Bachelor of Commerce studies with a debut season in the AFL. The rookie draftee was put straight to work at Fremantle, making his debut in round one and playing 20 games in his first year in the AFL. Banfield impressed as both a tagger and midfielder, playing crucial roles on some of the AFL's best players, and has been elevated to the senior list.
2018 was a year of ups and downs for recent graduate Georgia Wilson. Starting the year in the Hockeyroos squad, her Commonwealth Games dreams were tragically cut short when she tore her ACL. Not one to let injury get the better of her, the 22-year-old worked hard at recovery while finishing her studies. The ultimate reward came in December when Georgia was recalled to the Hockeyroos squad.
This year was also a breakout season for 19-year-old racewalker Declan Tingay, who set a new junior Australian record in the 10,000m. Declan has been closing in on the record, previously set by Olympic medallist Dane Bird-Smith for some time, narrowly missing it during the Championships trials earlier in the year.
St Thomas More Intercollege Champions
It was the biggest year yet for the UWA Intercollege competition, which saw over 1500 college students compete for the title of Intercollege Champions. Students competed in 15 sports that included AFL, Cricket, Netball and a Campus Run.
St Thomas More were crowned Overall Champions, and also took out the WICSA Cup (Women's Champions). The Nicholson Cup (Men's Champions) went to St Catherine's College.
2018 has been a big year here at UWA Sport. After all the achievements of UWA students, we can't wait for 2019, and all the awesome sporty things we have in store!
Media references
Louis Humberstone
Marketing, Communication and Events Coordinator
6488 4309
Tags
Channels

Sport

Groups

UWA Sport