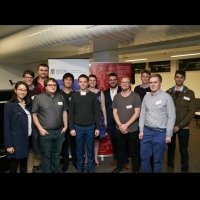 Wednesday, 19 December 2018
The UWA Makers Group have recently lent their expertise in design, electronics, and coding to help establish a brand new makerspace and afterschool program at Willetton Senior High School.
The joint venture was initiated by Willetton technologies teacher, Paul Hogg, with an aim to change the way that traditional design & technology classes are taught in order to appeal to more students. Mr. Hogg was familiar with the concept of makerspaces, but had no direct experience of starting one, and sought out the skills of UWA Makers Group.
Founded in 2016, UWA Makers Group currently has over 400 members, with the UWA Makers Lab boasting state-of-the-art equipment such as 3D printers, laser cutters, and computer numerically controlled (CNC) mills.
UWA Makers mentors Samuel Tennent, Phoebe Khoo and Ben Jennings began their work in August, collaborating with Willetton staff and students to launch the new Willetton SHS Makerspace in early October, together with a pilot after-school program.
As the school year wraps up, Mr Hogg reflected on the success of the project. "Working with UWA Makers Group has opened our eyes up to what is possible. It is giving us the knowledge and confidence to design projects with the students that are fun and exciting as well as highly educational. The knowledge that we, both students and teachers, are gaining is vital for the future."
This pilot program engaged a select group of a dozen enthusiastic, bright and talented students. All keen to build their own creations, the students worked on a range of highly innovative projects, including ambitious plans of building a humanoid robot that can work as a translator.
"It's a very non-threatening learning environment that is great fun too," said Ashlin, a year 9 student.  "The mentors are really patient with us. When we don't get it, they go over it until we do."
Robert, a year 8 student, added his tick of approval. "They can help me with my project so I can learn lots of new things. They are also really friendly and helpful."
The program has started the basics of Arduino coding, with plans to expand to electronics, CAD skills, and rapid fabrication skills next year.
"I'm personally hoping it is something they work on for a few years throughout high school," said Ben Jennings, president of UWA Makers Group. "It is awesome to see incredibly passionate teachers who care about making the student experience better. I am very excited that the students we are working with now, might eventually come to UWA and be a part of our community. Going forward, the idea will be that Makers keep running it – but the teachers will all be skilled up and able to assist incoming new mentors."
With this pilot program proving such a success, UWA Makers Group are hoping to reach out to other high schools to spread the winning concept even further.
More information about UWA Makers Group can be found here .
Media references
Tina Zhang (UWA Faculty of Engineering Mathematical Sciences) (+61 8) 6488 1733
Tags
Channels

Students

Groups

Faculty of Engineering and Mathematical Sciences