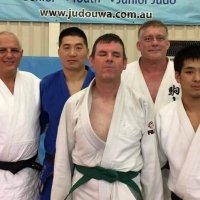 Wednesday, 19 December 2018
UWA Judo Club judoka Ian Blackburn has proved that blindness is no obstacle to succeeding in the sport he loves.
Blind since 5-months-old, in early December Ian achieved his goal of grading to green belt after three years of hard work.
Ian joined the UWA Judo Club in 2010, aged 46. He took up judo on the recommendation of Erica Webb, the partner of blind judoka and Paralympic gold medallist Anthony Clarke.
Having always wanted to do martial arts as a teenager, Ian seized the opportunity to join the sport later in life, aware that judo was accommodating to blind people. Visually impaired judo is currently the only martial arts event in the Paralympics, being introduced for men in Seoul 1988 and women in Athens 2004.
Ian has said it took him nearly two years of training to learn the process of 'learning judo'. As the first para-athlete member of the club, this learning process was two-way as coaches discovered how to effectively teach him.
Ian says that UWA Judo Club has been fantastic in helping him in his journey.
"I needed help and people who wanted and had the time and skill in teaching me to commit to the venture. I have had lots of help along the journey including those who have provided transport to Judo and those who have spent time teaching me.
"One of the most important things was that there were people who wanted to help me get it. This is by far the most important aspect. Straight away this also shows you that Judo is not an individual sport, at least as far as I am concerned."
There have been a range of coaches at the club who have helped Ian through his journey. Each coach has brought their own style and manner which suit certain parts of Ian's game, helping shape the judoka he is today.
Although he approached the sport at a late age, Ian has proved dedicated to his goal and thrived on the challenge he set himself.
"I enjoy the interaction at judo and am constantly excited by the opportunity to do an Olympic sport. I know blind people all over the world do Judo and I figure if they do it so can I. I am also doing one of the things I had dreamed about as a young person."
Now a more experienced judoka, and with a strong support team around him, Ian hopes to progress onto his blue belt within 2 years.
UWA Judo Club is working towards obtaining funds to install a sprung floor. This would make landing on the mats easier and safer for judoka like Ian.
Footage of Ian in action can be found here .
Media references
Louis Humberstone
Marketing, Communication and Events Coordinator
6488 4309
Tags
Channels

Sport

Groups

UWA Sport