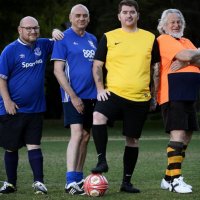 Tuesday, 18 December 2018
As one of Perth's newest and most innovative sports leagues comes to a season end, there have been plenty of goals scored on and off the pitch.
The 87 players contesting in Perth's first MAN v FAT soccer league have shed a combined 515kg across the 14 game weeks.
UWA Sport and the Psychology of Active, Healthy Living (PAHL) group at the University of Western Australia partnered with the successful weight-loss program from the United Kingdom, bringing MAN v FAT to Perth in an Australian first.
With over 70% of Australian men reported as obese or overweight, MAN v FAT aims to combat this in a social and friendly format that includes one 30 minute game of soccer a week.
The program not only gets men involved in sport, but also encourages them to eat less, sleep better and stay accountable to their teammates.
The success in the UK is undeniable:  since the program opened in January 2016, there are now over 50 leagues and 4,500 men involved across the UK, who together have managed to lose over 50,000kg.
MAN v FAT Research Coordinator, UWA PhD candidate Timothy Budden, said program participants have been noticing the changes.
"We've yet to collect our end-of-season survey data, but anecdotally players are moving better, feeling better, feeling more confident, they're eating and drinking better (and less!) and they've rekindled their love for football."
After the success of the initial program, 2019 will see a second season running at UWA, with the plan to open 2-3 more leagues in early February.
More information on the MAN v FAT program can be found here .
Media references
MAN v FAT Program Manager, PAHL Group, UWA
0488 236 780
MAN v FAT Research Coordinator / UWA PhD student
0450 685 675
Louis Humberstone
Marketing, Communication and Events Coordinator
6488 4309
Tags
Channels

Sport

Groups

UWA Sport