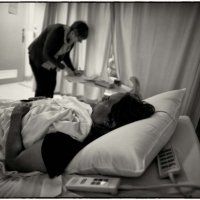 Monday, 17 December 2018
A new study led by The University of Western Australia has found many homeless people are trapped in a 'revolving hospital door', often not accessing medical care until they are very sick or in crisis. If discharged back to homelessness, the cycle continues, and at Christmas there will be patients in hospital with no home to go to.
UWA has been evaluating the impact through a partnership between Royal Perth Hospital, homeless health services and Perth's 50 Lives 50 Homes project to help break this cycle. To date 50 Lives 50 Homes has housed more than 150 rough sleepers, many of whom have complex health issues exacerbated by living on the streets.
UWA Associate Professor Lisa Wood said the Christmas season would see additional pressures on hospital emergency departments, and anxiety and mental health issues can escalate for people without a place to call home.
"Already in 2018 there have been nearly 3000  emergency department presentations at Royal Perth Hospital alone for people with no fixed address," she said.
"It is unproductive and futile to treat homeless patients in hospitals before discharging them back to the same conditions that made them sick in the first place. A hospital bed in WA costs the health system $2718 per day, so a far cheaper option to is connect people to housing and provide support to stay housed."
Professor Wood said homelessness placed an incredible strain on the health system and was a major financial burden for government, so addressing the causes had to be part of the solution.
"By having a dedicated homeless team within hospitals, homeless patients who frequently present to the emergency department can be linked up with a GP, a case worker and prioritised for housing," she said.
Homeless Healthcare's Dr Andrew Davies said that people experiencing homelessness are particularly vulnerable at Christmas.
"Homeless Healthcare sees more than 2000 homeless patients a year, and we see a huge increase in mental health issues at this time of year. Loneliness, stress, social anxiety and lack of social support all contribute to this," he said.
"Spending time with family and buying gifts for others is synonymous with Christmas, but for many people who are homeless, this is not possible. We see patients who can't even afford essential medications and others who have been discharged from hospital with nowhere safe to go."
Royal Perth Hospital Emergency Consultant Dr Amanda Stafford said it was important and cost effective to have a hospital team working in partnership with the housing and homelessness sector to stop the revolving hospital door.
"A great way to give at Christmas is to donate to one of the many charities that are working to break the cycle of homelessness," she said.
Media references
Jess Reid (UWA Media and Public Relations Advisor) 08 6488 6876
Tags
Channels

Media Statements — University News

Groups

Faculty of Health and Medical Sciences — School of Population Health