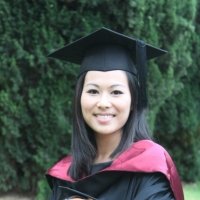 Friday, 14 December 2018
A medical student from The University of Western Australia has been presented with a prestigious Australian Medical Association (AMA) Gold Medal.
Dr Catherine Nguyen, 24, was awarded the gold medal in recognition of achieving the highest aggregate mark for all core units over the four years of the Doctor of Medicine course.
Dr Nguyen entered the UWA medical program through Broadway UWA which is designed to give disadvantaged students the support they need to transition from high school to a university education.
The Broadway Direct Pathway program, one of many under the banner Aspire UWA, works with schools and students during their high school years.  They are then mentored throughout their Bachelor's and Direct Pathway degrees.
The former Mirrabooka Senior High school student said the Broadway Pathway had allowed her to broaden her experience and realise her potential, and she wanted to give back to the community.
"This program is important because it provides disadvantaged students with an opportunity to reach their full potential. Without it, students like me would not be able to achieve our dreams of studying medicine or dentistry," Dr Nguyen said.
Since being introduced to the University in 2008 the scheme has been a great success, allowing 23 Broadway UWA students to graduate with a Medicine degree and 151 students currently in various stages of their medicine and undergraduate course, achieving the program's aim of increasing diversity in student cohorts and promoting equity in the selection of students with respect to different geographic, ethnic and socio-economic backgrounds.
UWA Coordinator of the Rural and Broadway Pathway programs Sue Pougnault said a Broadway Direct Pathway was essential to ensure health and medical professionals were represented across a broad socio-economic spectrum.
"The biggest hurdle facing students attending high school in low socio-economic areas is a lack of belief that they can achieve tertiary education," she said.
"We are so pleased to see the continued success of our Broadway students and their desire to contribute to a broad range of communities.
"Broadway UWA encourages students from a cross section of the community to enter medical and health sciences professions. This experience will contribute to how they conduct their professional lives in the future."
Media references
Jess Reid (UWA Media and PR Advisor) 08 6488 6876
Tags
Channels

Media Statements — Students — University News