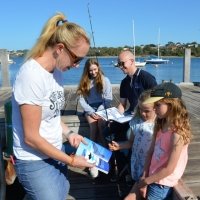 Friday, 14 December 2018
Amazing fish facts that help to explain the serious side of Western Australia's marine environment and why it's so important to protect it, as well as a species identification guide for young explorers are all in a new book available free to schools.
Written and compiled by fish ecologists Dr Dianne McLean and Research Assistant Michael Taylor and published by The University of Western Australia's Oceans Institute, the book explains everything from the cultural significance of the ocean, to its diversity and abundance of marine life all interspersed with fun facts and beautiful images.
The researchers are providing copies to schools in an effort to engage primary and secondary children in marine science by developing knowledge and promoting an appreciation of fish life off our coast.
"I am hoping the book grows a love of the ocean in children and a desire to be in it and on it. That, like me, they like learning about all the different fish species and what makes each one unique," Dianne said.
The highlight of the book, according to Michael Taylor, is the species identification guide which includes photos, biological illustrations and statistics on 106 different species.
"There is a lot of interesting information throughout the book, but the real star for me is the identification guide," Michael said. "Photographers from around Australia donated some great images for it, and I hope that the children who come to look through it will start to recognise and learn about the fish that they see when they go out into the ocean."
The researchers plan to visit schools in 2019 to get feedback and develop worksheets with teachers.
Schools can access hard copies of the book by emailing [email protected]
Electronic copies of the book are available here
About the authors
Dr Dianne McLean started with Australian Institute of Marine Science in WA as a fish ecologist in 2018 having previously been with UWA for 14 years. Dianne's research focusses on the impact of oil and gas infrastructure on fish and fisheries.
Michael Taylor is a Research Assistant with the Fish Ecology Group the within the School of Biological Sciences at The University of Western Australia's Oceans Institute
Media references
David Stacey (UWA Media Manager)           08 6488 3229/ 0432 637 716
Tags
Channels

Media Statements — University News

Groups

Oceans Institute — School of Biological Sciences