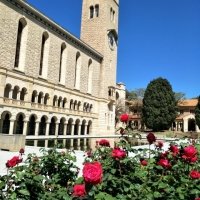 Friday, 14 December 2018
Four graduates from The University of Western Australia are among 18 young Australians to be awarded prestigious John Monash Scholarships for 2019 at a ceremony held last night at the Sydney Opera House.
Engineering science graduate Michaela Taylor-Williams was named Woodside John Monash Scholar while medicine/arts graduate Georgia Walker was named Helen and Michael Gannon John Monash Scholar. Zoe Bush was named Zelman Cowen John Monash Scholar and Ashlee Uren Commonwealth Bank of Australia John Monash Scholar – both are law/arts graduates from UWA.
The postgraduate scholarships are awarded to outstanding Australians with leadership potential who wish to study overseas. The scholarships are awarded by the General Sir John Monash Foundation, which aims to foster leadership, expertise and international networks, as well as build Australia's capabilities for the future.
Ms Taylor-Williams, who graduated with a Bachelor of Science (Hons) in Electrical Engineering and Economics in September this year, is currently working as a graduate engineer for BHP Iron Ore. While working at UWA's Optical and Biomedical Engineering Laboratory, her achievements included a provisional patent on optical fibre probes to diagnose cancer and international presentations on her research.
She plans to use her John Monash Scholarship to pursue a PhD in Biomedical Engineering, focusing on innovative medical imaging and engineering technologies that can be used to enhance our understanding and treatment of cancer, cardiovascular and neurological diseases.
Dr Walker is committed to improving child health outcomes and works as a trainee paediatrician at the Royal Children's Hospital in Melbourne. She plans to use her scholarship to undertake a Master of Tropical Medicine and International Health at London School of Hygiene and Tropical Medicine, developing skills in research methodology, public health and policy and clinical management of childhood infections.
Dr Walker will then work as a research clinician in The Gambia, West Africa, to complete her training before moving to the Northern Territory to work as a paediatrician and public health advocate, driving change in the underlying social factors of poor Indigenous child health.
Ms Uren is completing a Master of Laws and Development at the University of Melbourne and working for the Federal Government as a senior legal officer in public international law. She is passionate about contributing to fair and efficient international legal systems and plans to use her scholarship to study a Master of Laws at New York University, focusing on the design of legal solutions to address concerns with international investment law.
Ms Bush works as a solicitor at the State Solicitor's Office of WA, as well as a tutor and guest lecturer at UWA's Law School, and also worked as Associate to Justice Michael Barker at the Federal Court of Australia.
Her criminal justice reforms in relation to Indigenous people with Fetal Alcohol Spectrum Disorder have been adopted by a Senate Standing Committee, published in peer-reviewed journals, presented at international conferences and taught at UWA Law School. Ms Bush plans to study a Master of Laws at Harvard University focusing on criminal justice responses to neurodevelopmental disorders, particularly in Indigenous populations.
UWA Vice-Chancellor Professor Dawn Freshwater congratulated the students on winning the scholarships.
"I'm incredibly proud of our graduates' achievements and wish them continued success in their future studies and career development," Professor Freshwater said.
Media references
David Stacey (UWA Media Manager)                                     08 6488 3229 / 0432 637 716
Tags
Channels

Awards and Prizes — Media Statements — Students — University News