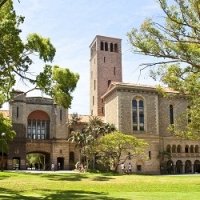 Wednesday, 12 December 2018
Researchers at The University of Western Australia have received $10.8 million in Federal Government funding to tackle issues ranging from new life support systems for preterm babies, to respiratory diseases in children and how genetic background influences the development of mesothelioma.
UWA was successful in receiving 12 project grants out of a total of 682 grants Australia-wide, through the National Health and Medical Research Council (NHMRC) and announced today by Federal Minister for Aged Care and Indigenous Health, Ken Wyatt.
Associate Professor Matthew Kemp, Principal Research Fellow with Obstetrics and Gynaecology in UWA's Medical School, will receive $794,762 to lead research into a new life support system known as EVE Therapy, to help preterm babies born at the border of viability.
Clinical Professor Stephen Stick, from UWA's Medical School and Associate Director at Telethon Kids Institute, will receive $1.94 million to investigate epithelial dysfunction and respiratory outcomes in children.
Adjunct Professor Richard Lake, from UWA's School of Biomedical Sciences, will receive $809,405 to lead a team researching how genetic background influences the development of mesothelioma in asbestos-exposed populations.
Other successful project grants were awarded to:
Associate Professor Aleksandra Filipovska, from UWA's School of Molecular Sciences and head of mitochondrial medicine and biology at Harry Perkins Institute of Medical Research received two grants – $802,389 to investigate the role of non-coding RNAs in prostate cancer; and $615,591 to discover key mediators of tissue specificity in disease.
Professor Ruth Ganss, head of angiogenesis and tumour immunology at Harry Perkins Institute of Medical Research, received $892,284 to improve treatment options for pancreatic cancer.
Winthrop Professor Karol Miller, from UWA's School of Engineering, received $374,024 to investigate better neuro-navigation in epilepsy surgery.
Professor William Morgan, from UWA's Centre for Ophthalmology and Visual Science, received $680,924 to research orbital pressure alteration and interactions with intercranial and intraocular pressure.
Clinical Professor Alan James, from UWA's Medical School, received $1.35 million to investigate airway disease in the general population.
Winthrop Professor Jiake Xu, head of regenerative biology at UWA's School of Biomedical Sciences, received $786,560 to research a molecular link between the SNX10 gene and destruction of bone cells.
Clinical Associate Professor Nicholas Gottardo, from UWA-affiliated Telethon Kids Institute, received $666,109 to reduce the harm caused by radiation for children with brain cancer.
Associate Professor Pilar Blancafort, from UWA's School of Human Sciences, received $1.1 million to investigate targeted epigenetic reactivation of dormant tumour suppressors: new precision therapies for liver cancer.
UWA Vice-Chancellor Professor Dawn Freshwater congratulated the recipients and said the grants were testament to the significance of the University's world-leading medical research.
"The University's continued ability to translate medical knowledge into practice means we remain at the forefront of delivering knowledge and discoveries that will guarantee the health and wellbeing of people and impact future generations," Professor Freshwater said.
"Through education, research and innovation, we are well prepared to meet the future medical needs of communities, both local and global."
Media references
Jess Reid (UWA Media and Public Relations Adviser)   08 6488 6876
Tags
Channels

Media Statements — Research — University News