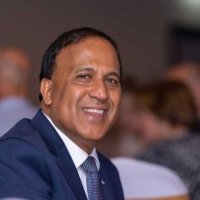 Wednesday, 12 December 2018
Western Australian academic Hackett Professor Kadambot Siddique, director of The University of Western Australia's Institute of Agriculture, is the first Australian to be elected fellow of The African Academy of Sciences (AAS).The AAS is the only continental academy in Africa, and provides advisory and think-tank functions for shaping Africa's Science, Technology and Innovation strategies and policies addressing Africa's developmental challenges.
The award was conferred on Professor Siddique at the 11th AAS General Assembly in Pretoria, South Africa yesterday, in recognition of his outstanding contributions to science, education and industry development.
Professor Felix Dakora, president of AAS, said his research on the adaptation, physiology, genetics and agronomy of crops has boosted cereal and grain legume production in dryland environments.
"Professor Siddique's major contribution to dryland agriculture has been crop yield improvements in wheat and grain legumes, and the release of several new grain legume cultivars," Dr Dakora said.
"His education and research training initiatives span many regions including Australia, Asia, Africa and the Middle East, impacting on the next generation of scientists and progressive farmers for the future challenges of food security."
Professor Siddique who is a member of the Australia-Africa University Network steering group said he is humbled and honoured to be recognised by such a prestigious Academy.
"I look forward to joining senior leaders in the Academy and contributing to the African community through science and technology," Professor Siddique said.
UWA Vice-Chancellor Professor Dawn Freshwater said the University is proud of the contribution Professor Siddique has made to advancing global science.
"The fellowship acknowledges Professor Siddique's tireless contribution not just to food and nutritional security but to helping improve people's lives globally," Professor Freshwater said.
"UWA prides itself on delivering outstanding scientific research to solve complex problems and this achievement enhances the University's reputation for advancing global science and technology."
In 2016, the United Nations Food and Agricultural Organization appointed Professor Siddique the Special Ambassador for the International Year of Pulses. He received the 2014 Western Australian of the Year Award, Member of the Order of Australia, and is a Foreign Fellow of the Indian National Academy of Agricultural Sciences (FNAAS); Fellow of the Australian Agricultural Institute (FAAI); Fellow of the Australian Academy of Technological Sciences and Engineering (FTSE); and Urrbrae Memorial Award. He is also recipient of the prestigious Dunhuang Award from China.
Media references
Diana Boykett (Communications Officer, The UWA Institute of Agriculture) (+61 8) 6488 3756 / (+61 4) 04 152 262
Tags
Channels

Awards and Prizes — International — Science

Groups

School of Earth and Environment — UWA Institute of Agriculture — UWA School of Agriculture and Environment