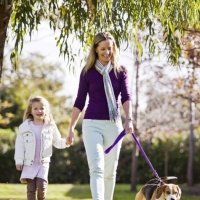 Monday, 10 December 2018
It's hard not to succumb to pressure from a child who wants the latest video games and devices for Christmas, but according to University of Western Australia Associate Professor Hayley Christian it is important to consider gifts that encourage physical activity and outdoor play.
Professor Christian has undertaken extensive research into physical activity and its impact on the development of children and said although limited screen time doesn't hurt, getting children more active was important.
"Our research indicates that two thirds of children between the ages of two and five are not getting enough physical activity and 70 per cent are exceeding the recommended one hour of screen time each day," Professor Christian said.
"Its important that we look at different ways to engage children, and get them more physically active, playing outdoors and away from devices.
"There are a range of important health benefits in doing so, such as instilling the importance of physical activity early on which has life-long benefits, improving their cognitive development, bone development and reducing their risk of obesity later in life."
Professor Christian said the choice of what was provided to children at Christmas was important and really the best gift of all was spending time with them.
"Gifts don't have to be expensive. Multi-use toys such as blocks, sidewalk chalk, beach toys, skateboards, playdough and balls are great and encourage imagination and physical activity," she said.
Nature Play WA CEO Griffin Longley said the Christmas holiday period should be about having fun as a family and building memories together.
"How we spend time together as a families helps set the patterns and memories kids will take into the rest of their lives," Mr Longley said.
"No one ever looks back lovingly at long hours spent playing video games. Playing together in the outdoors is the perfect recipe for health and for filing our collective memories with laughter and good times."
Hayley Christian's Top 5 suggestions to keep children healthy and active
Plan a picnic at the park or beach
Make up a new game in the backyard
Use recycled materials to make your own obstacle challenge
Build a cubby
Play chasey or hide and seek
Media references
Jess Reid (UWA Media and PR Advisor) 08 6488 6876 / 0413 105 200
Tags
Channels

Media Statements — University News