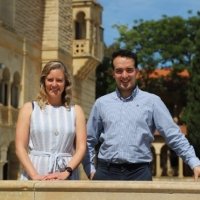 Friday, 7 December 2018
A marine science postgraduate, an international relations graduate and one of Australia's brightest young female entrepreneurs have been awarded Fulbright scholarships for 2019, joining a prestigious global group that includes Nobel Laureates and Pulitzer Prize winners.

Joshua Dunne completed a Bachelor of Philosophy with Honours in Political Science and International Relations at UWA and is currently working as a Study Abroad Assistant in UWA's Global Learning Office.

Next September, he will move to the United States to pursue a Masters' Degree in Global Affairs and International Security at one of Yale University, Columbia University or Georgetown University.

He plans to use his Fulbright Scholarship to investigate the modern threats and challenges facing states throughout the developing world, focusing primarily on the shifting power politics of the Middle East and North Africa.

Having recently completed an Honours thesis on competing political influences in the North African state of Algeria, Joshua is enthusiastic to further his studies into this part of the world.

"Historically, North African politics have been defined primarily by colonial and post-colonial relationships, but the uprisings of the Arab Spring and the emergence of terrorist organisations have focused the public's attention upon North African figures and groups," he said.

"If states such as Australia are to navigate this new landscape of international politics, a nuanced understanding of the region and its challenges will be critical to their success."

Longer-term, Joshua hopes to apply his understanding of regional security through a role within the Australian diplomatic corps, helping to overcome the obstacles and challenges facing the developing world in the 21st century and beyond.

Dr Taryn Foster, a postdoctoral fellow at the Australian Institute of Marine Science, will work on an idea to upscale coral restoration at the California Academy of Sciences in San Francisco from July next year.

Working in collaboration with Dr Rebecca Albright, Dr Foster plans to work with Californian tech companies to develop 3D printing and robotics technology to be used for mass-scale coral production.

Her work on coral reefs at Scott Reef in Western Australia was an eye-opener for her when she saw the effects of coral bleaching and mass coral mortality due to climate change during the third global bleaching event in 2016.

Dr Foster said that climate change was the source of the problem and would continue to cause coral bleaching if CO2 emissions continued unabated.

However, she said scientists were also looking at new techniques to combat the direct impacts of warming oceans using the latest technology and expertise available.

"Watching a mass coral bleaching event unfold on one of our WA reefs was truly heartbreaking," Dr Foster said. "It made me start to think about how I could get more involved with working on solutions.

"Current coral restoration methods are time consuming, expensive and not up to the reef scale.

"My plan is to explore mass production for reef restoration with the support of companies that have the technology needed to scale it up to something that is effective at the reef scale. I think it will be essential to start crossing disciplines to tackle this problem."

Holly Ransom, who completed a Bachelor of Law and Arts at UWA, majoring in Economics, was awarded a Fulbright Anne Wexler Scholarship.

Ms Ransom is a UWA International Excellence Ambassador and CEO of Emergent, a company specialising in disruptive strategy and building leadership capacity to execute change.

Her career has spanned leadership roles across the corporate, non-profit and policy sectors, focusing on organisational change, stakeholder engagement, and leadership development.

She plans to use her Fulbright Scholarship to pursue a Master of Public Policy at Harvard University's Kennedy School, focusing on emerging technology ethics and governance.
Media references
David Stacey (UWA Media Manager)                                                    08 6488 3229/ 0432 637 716
Tags
Channels

Alumni — Awards and Prizes — International — Media Statements — Students — University News

Groups

Arts — Faculty of Arts, Business, Law and Education — Law — Oceans Institute