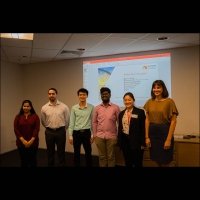 Friday, 7 December 2018
Four of the University of Western Australia's brightest Master of Professional Engineering and Master of Data Science students were invited to take part in the WA Transport Related Student Thesis Presentation hosted by the Australian Institute of Traffic Planning and Management Ltd (AITPM) on 22 November.
The AITPM is the peak professional body for the traffic management and transport planning industry and provides a frame of reference for practitioners in traffic and transport planning management.
AITPM's WA Transport Related Student Thesis Presentation provides an opportunity for interested parties to hear from and network with young professionals making their mark in the transport industry.
Master of Professional Engineering Civil students Mugundan Radhakrishnan and Kevin Theodore Siswanto were joined by Mechanical engineering student, Liam Cummins, and Master of Data Science student, Prathyusha Sangam, to present the practical results from their transport related thesis papers.
Mr Radhakrishnan's paper, Evaluating the Impact of Increasing Park and Ride at Train Stations in Perth, was co-supervised by Dr. Chao Sun and Prof. Yuxia Hu, Mr Siswanto's research paper, Optimisation of Road Maintenance Scheduling, was co-supervised by Dr. Ronald L. While and Prof. Yuxia Hu, Mr Cummin's paper, Microsimulation of Autonomous Vehicles Dissipating Stop-and-go Waves in a Multi-Lane Environment, was co-supervised by Assoc/Prof. Mark Reynolds, Dr. Chao Sun and Dr. Ghulam Mubashar Hassan and Ms Sangams paper, Characterising Temporal Contexts, was co-supervised by Assoc/Prof. Rachel Cardell-Oliver.
"After all the effort I put into my thesis, it was rewarding to be able to showcase my research beyond the classroom and have the opportunity to share it with those in the relevant industry," Mr Cummins said.
UWA's representation at the event was arranged by Dr Chao Sun, Research Fellow at the Planning and Transport Research Centre (PATREC), in partnership with event host, Miss Xin Hou. Dr Sun nominated the four UWA students on the basis of quality of work and industry relevance.
Ms Xin Hou is a 2017 UWA Civil Engineering graduate, recipient of the 2018 AITPM Young Professional Award for Western Australia and an active member of AITPM's WA committee, currently working for global consulting company, WSP .
UWA Civil Engineering graduate Iris Brkic, Transport Engineer at global consulting company Aurecon , also attended the AITPM event, presenting on her career experience as a young professional in the industry.
AITPM's National Chair of Transport Modelling Network and Section Lead – Transport Planning and Advisory (Western Australia) at Jacobs , Richard Isted, spoke highly of the UWA student submissions, "the student presentations were all of a very high quality and elicited very positive feedback from the audience who were from a wide cross section of the transport planning and engineering community including representatives from government and a range of consulting firms," Mr Isted said.
"The presentations represented a range of disciplines intersecting to point towards innovative solutions to both old and emerging problems tackled within the industry".
"We see significant value in running these events as they allow students to connect with organisations and network with talented researchers being produced by UWA. We would very much like to collaborate with UWA and PATREC again in future years to make this an annual event".
Find out more about the AITPM and the UWA student abstracts here .
Media references
Caitlin White (UWA Faculty of Engineering Mathematical Sciences) (+61 8) 6488 2260
Tags
Channels

Business and Industry — Events — Research — Students

Groups

Faculty of Engineering and Mathematical Sciences