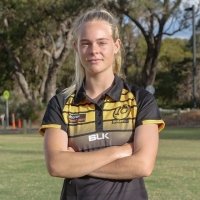 Thursday, 6 December 2018
17 year old Zoe Gillard has deified expectation with her selection into the RugbyWA Youth Girls 7s team only a month after being introduced to the sport.
Originally an Australian Rules Football player Gillard found success playing for East Fremantle Football Club only narrowly missing out on the Western Australian State Squad before turning her attention to Rugby 7s.
Only playing two previous trial games in the lead up to her selection, Gillard defiantly did not have experience on her side however her tenacity and drive has seen her ability to grasp the game excel rapidly reminiscent of other cross code greats such as Wallaby Israel Folau and fellow East Fremantle Shark Caitlyn Edwards who has donned the colours of both the Western Force Women and the Collingwood Magpies.
Leaving high school early to study Marine Biology at the University of Western Australia, Gillard was picked out by UWA's Sports and offered the chance to play in the AON 7s get into rugby program leading her to cross paths with Youth Girls 7s Head Coach Dwayne Grace.
Thrown straight into the mix Gillard played her first game of 7s in an international level fixture against Hong Kong showing off an incredible ability to adapt at against top class competition.
Seeing a huge amount of potential in her ability and work rate Grace was impressed to know that Gillard was still only 17 and still eligible for his team right before the lead up to the national tournament.
Brought into the training squad as a shadow player she was surrounded by a very talented group of girls all of which who had played Rugby for a number of years many apart of the RugbyWA schoolgirl squad who won the tournament in June.
Still learning the ins and outs of 7s rugby she was initially brought in for development, Grace made it clear that selection in the touring squad was unlikely due to the experience held by her teammates. Not startled Gillard continued to train and show persistence leading to an unseen improvement in her game.
After weeks of continuous training with the squad, her hard work came to fruition when a late injury pushed her name into selection only days before jersey presentation and departure.
Apart of the team Gillard will join fellow newcomer to rugby and former football player Georgia Crosby who has been apart of RugbyWA's emerging girls program after being discovered on a regional development tour to Albany in 2017.
Both Crosby and Gillard's inclusion into the squad sees them lead the charge in the recent influx of talent into girls and women's rugby with a lot of players coming across from other codes.
Gillard was extremely excited to head over to Queensland and represent her state aware of the high expectation coming off the schoolgirls' victory earlier in the year.
"I'm super excited to head off, I've been watching a few videos on past games and trying to get a handle on the rules but I know the basics so I think I'll be okay."
"It's been a great experience trying a new sport I'm anxious to see what will cross over from football (Australian Rules), missing out on the footy state team was disappointing however I feel like rugby has opened a couple of new doors for me."
"The biggest thing I've enjoyed is the contact element of it all, I left netball to football for that reason and now it's one of the biggest things I've enjoyed about rugby."
"All the girls have been super welcoming, I've seen how Georgia (Crosby) has come up and made her way into the squad and It's super exciting to play at a national level and see how far I can go."
The Youth Girls 7s team departs to Ballymore, Queensland today alongside the Youth Boys and Men where they will play in a three day tournament facing the top young 7s talent in the country.
RugbyWA would like to thank Alcohol Think Again and the Future Force Foundation for their continuous support of our high performance pathways and development teams without your support it would not be possible for Zoe Gillard and her team to head over to Ballymore and compete at the highest level.
A close eye should be kept on Zoe and her team as this group of girls is emerging to be some of t
Media references
Originally pubished by Rugby WA
Gabrielle Morri
Graduate Officer - Marketing, Communication and Events
6488 3768
Tags
Channels

Sport

Groups

UWA Sport