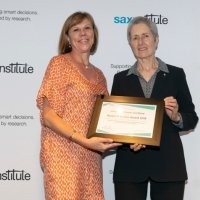 Tuesday, 4 December 2018
The University of Western Australia has a continual roll call of awards, scholarships and prizes presented to staff and students. To recognise these achievements, a monthly article is published on the UWA news page on the website and in UWA Forward on the first week of every month. If you know of any great awards or achievements across the University please email [email protected]

Name: Associate Professor Lisa Wood, School of Population Health
Achievement: Sax Institute Research Action Award
Associate Professor Wood's team has developed the largest database of linked homeless and health data in Australia. This project has linked hospital records for 3400 homeless patients to other homeless, housing and police data to gain new insights into predictors of homelessness, the effectiveness of interventions and the barriers in delivering policies and services that work.
Name: Professor Jane Balme, School of Social Sciences
Achievement: Australian Academy of the Humanities Fellow
The Australian Academy of the Humanities elects outstanding scholars and is the highest honour for achievements in the humanities in Australia. Professor Balme has been recognised for her distinguished achievement in Australian archaeology and Indigenous societies scholarship.
Name: Professor Vera Morgan, Research Assistant Professor Anna Waterreus and Research Assistant Professor Giulietta Valuri, UWA Medical School
Achievement: Australasian Epidemiological Association (AEA) Annual Meeting awards
Three researchers were presented awards at the Australasian Epidemiological Association (AEA) Annual Meeting. The AEA is dedicated to excellence in epidemiological research, education, training and advocacy. Professor Morgan was presented Australasian Epidemiological Association Mentor of the Year Award, Professor Waterreus the Australasian Epidemiological Association Aboriginal Torres Strait Islander/Māori Pacific Islander Early Career Travel Award 2018 and Professor Giulietta Valuri the Australasian Epidemiological Association Student Award 2018.
Name: W/Professor Mohammed Bennamoun - Computer Science and Software Engineering, Professor David Edwards,- School of Biological Sciences, Professor Paul Low - School of Molecular Sciences, Associate Professor Marius Martyniuk - School of Electrical, Electronic and Computer Engineering, W/Professor Karol Miller - Mechanical Engineering  and Professor Dongke Zhang - UWA Centre for Energy
Achievement: Memberships in the 2019 ARC College of Experts
UWA researchers were presented with memberships in the 2019 ARC College of Experts. The ARC College of Experts plays a key role in identifying research excellence in the ARC National Competitive Grants Program, moderating external assessments and recommending fundable proposals.
Name: Professor Vera Morgan - UWA Medical School, Dr Yael Perry- UWA Centre for Child Health Research and Dr Lee Nedkoff - School of Population and Global Health and Dr Anabel Sorolla Bardaji - UWA Centre for Medical Research
Achievement: Raine Medical Research Foundation Collaboration awards
Four UWA researchers were awarded Raine Medical Research Foundation Collaboration Awards. The Awards encourage medical researchers in Western Australia, from early-career, mid-career to senior scientist, to develop national and international research collaborations that investigate the cause and treatment of mental illness.

Congratulations UWA staff and students.
Media references
Jess Reid (UWA Media and Public Relations Advisor)                                (+61 8) 6488 6876
Tags
Channels

Awards and Prizes — Media Statements — University News