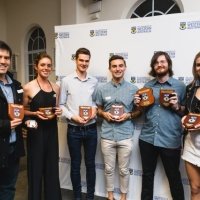 Tuesday, 4 December 2018
The 2018 UWA Blues Awards were held on Thursday 29 November at IQX UWA, seeking to recognise 2018 recipients and welcome them to the historic Blues family.
Blues have a long-standing history at UWA, with Full Blues and Half Blues awarded by the Sports Council to UWA student athletes since 1921. These awards are considered to be the highest possible honour a student athlete can achieve during their time at university. The awards not only acknowledge excellence in sport, but also the athletes' contributions to their respective clubs throughout the year.
Notable attendees included Deputy Vice-Chancellor (Education) David Sadler, and Chair of the UWA Sport Advisory Council Ross Kelly.
MC Richard Pengelley (Full Blue 1979, Swimming & Water Polo) hosted a short Q&A with previous Blues recipients Nicholas Hughes (Full Blue 2017, Water Polo) and Cruz Hogan (Full Blue 2013, Athletics).  Topics of discussion included recounts of the young athletes' past 12 months, their hopes and goals for the next 12 months, and the way in which sport has impacted their lives.
2018 Blues pins and plaques were awarded by 2018 Sports Council President Desiree Tan and 2018 Sports Council Secretary Max Qua to the following recipients:
Full Blues:
Anupa Kritmanorote (UWA Kendo Club)
Half Blues:
Ben Chamberlain (UWA Athletics Club)
Alex Di Medio (UWA Athletics Club)
Sarah Hynes (UWA Athletics Club)
Joe Turner (UWA Athletics Club)
Max Montanari (UWA Boat Club)
Alexandra Utley (UWA Boat Club)
Daniel Timms (UWA Hockey Club)
Sebastian Ortiz (UWA Judo Club)
Lam Nguyen (UWA Kendo Club)
UWA Sport is committed to maintaining contact with sport alumni and those that have made university sport a success, not only for their athletic abilities but their contributions to the university and their respective clubs throughout the year.
Blues recipients are encouraged to provide their latest information and contact details. To do so email [email protected]
Media references
Gabrielle Morri
Graduate Officer - Marketing, Communication and Events
6488 3768
Tags
Channels

Sport

Groups

UWA Sport