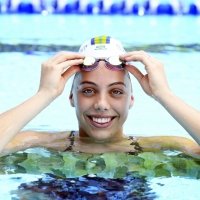 Tuesday, 4 December 2018
The sporting DNA that has Kara Broadbridge on the verge of becoming WA swimming's next big thing also once put her young life in turmoil.
The daughter of Olympic hockey gold medallist Sally Carbon and WA football identity Michael Broadbridge grew so fast at the age of 11 — 11cm in less than a year — that she developed scoliosis. The resulting curve in her spine forced her to wear a body brace for 22 hours a day for two years.
Now free of that restriction, Kara broke Brianna Throssell's 50m freestyle record for 15-year-olds at the Commonwealth Games trials this year and is preparing to take on the world.
"Wearing the brace was tough, but it just adds more character," the 16-year-old said.
"Sitting at a desk at school all day in a brace was pretty uncomfortable and it was also painful adjusting to not wearing a brace.
Kara said she was proudly trying to continue her family's successful sporting lineage.
"It's a lot of hours invested in something that might not work out in the end, but you definitely learn a lot along the way," she said.
"I never take things for granted because it takes a lot to become the best and I'm driven to be the best in the sport."
Carbon said despite the family's sporting background, they tried to steer away from giving their daughter too much advice.
"We probably try and do it the opposite way and that is not give her much, just provide some parameters for her to bounce off and (let her) work the journey out for herself," she said.
"We certainly don't wrap her up in cottonwool, but I certainly get a kick out of her putting herself on the line. In a funny sort of way, it's more exhilarating being a parent."
Broadbridge, a former WAFL player and Claremont coach, admitted a feeling of powerlessness watching his daughter compete.
"It's quite nerve-racking when she is standing on the blocks and they're ready to jump ... 50m goes pretty quick," Broadbridge, also a former AFL assistant coach, said.
"But we've made a conscious effort to just support her and do what we have to do. We're basically Uber drivers and chefs and that's about it. We're just enjoying watching her."
Kara is targeting the national championships in Adelaide in April as her next step towards the world stage. She may also compete in the FINA World Junior Swimming Championships in Budapest in August.
Media references
Originally published by The West Australian
Gabrielle Morri
Graduate Officer - Marketing, Communication and Events
6488 3768
Tags
Channels

Sport

Groups

UWA Sport