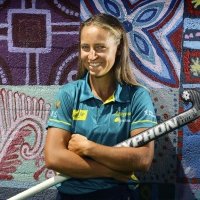 Monday, 3 December 2018
There is unlikely to be any other hockey star in the world who has been looking forward to the launch of the Pro League as much as WA's Georgia Wilson.
Wilson has been watching from the sidelines since she tore her left anterior cruciate ligament in January, but is closing in on her return to the top level.
And there is one tournament that has been on the 22-year-old Hockeyroo's mind the whole time
"It's been a huge motivation for me personally this year, just doing my rehab and knowing that I'm coming back into the first of its kind sort of tournament format," Wilson said.
"So much travel is involved and a lot of the places I haven't ever been to. I've only been on two international tours previously. All of it is televised too.
"We now have the platform and the opportunity for more people to watch."
The league, which has replaced the Champions Trophy and World League, will see nine of the globe's top men's and women's teams face off both home and away every year with fixtures taking place from January to June.
Wilson is desperate to be selected for the first-round match against the Netherlands in Melbourne on February 2, while the Aust-ralian women will take on Great Britain in Perth on February 16 in their fifth match of the new international league.
Tickets go on sale today.
"Every game is going to be so important, as a midfielder I'm looking to transition into attack more and use my speed, which I've been working on in rehab and just executing the basic skills is probably the most important thing for me," Wilson said.
She recently played her first practice match and will continue working on her skills as the rest of the national squad take a break over Christmas.
"I've been able to work on my running technique," Wilson said. "I've been able to watch a lot so trying to improve my positional awareness and tactically.
"I scored second highest in the squad in a yo-yo test so I feel like mentally and physically I'm going to be a lot better off in the long run.
"I think everything happens for a reason. I thought I was working hard last year when I first entered the program. I have really redefined those ideas I had."
Wilson has also been coaching during her injury lay-off, spending a few weeks at the Australian Islamic College in Thornlie.
Media references
Originally published by The West Australian
Gabrielle Morri
Graduate Officer - Marketing, Communication and Events
6488 3768
Tags
Channels

Sport

Groups

UWA Sport