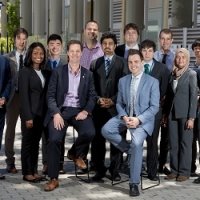 Friday, 30 November 2018
A new Centre launched today at The University of Western Australia will drive research into new subsea engineering technologies for offshore oil and gas production and maintain Western Australia's competitiveness in the LNG market.
In partnership with Chevron and Woodside Energy, the Centre for Long Subsea Tiebacks will enhance the State's global reputation in deep water energy production.
Through its collaborative research, the Centre will improve the oil and gas industry's understanding of hostile deep sea conditions and create innovative solutions to enhance the economic feasibility of remote offshore gas production.
The expertise generated through the Centre will be directly integrated into the development of offshore assets which will support Western Australia's market competitiveness in oil and gas production over the coming decades.
Western Australia has the potential to unlock future assets in the Carnarvon Basin that would create thousands of jobs and long subsea tieback technology will be a key component to economic viability.
The Centre was founded following successful collaborations with flow assurance and subsea processing technological integration on Woodside's Greater Enfield Development and Chevron's Gorgon project.
UWA Vice-Chancellor Professor Dawn Freshwater said the Centre would further establish The University of Western Australia as a world-leading hub for subsea engineering and inspire the next generation of leaders through real-world research and teaching excellence.
"The Centre for Long Subsea Tiebacks will be an important hub for connecting research and industry, offering a unique collaborative environment that will equip our researchers with the expertise to address the pressing challenges of Australia's energy security and strengthen our contribution to the global LNG market," Professor Freshwater said.
Woodside Executive Vice President Exploration and Chief Technology Officer Shaun Gregory said the work of the UWA Centre for Long Subsea Tiebacks would help deliver significant benefits to Western Australia.
"Collaboration is central to Woodside's approach to innovation. We expect this partnership will play a crucial role in unlocking substantial new gas resources off Western Australia's north coast and in reinforcing Perth's global reputation as a centre for excellence in LNG technology and skills," Mr Gregory said.
Chevron Australia Managing Director Nigel Hearne said the UWA Centre for Long Subsea Tiebacks offered Chevron the chance to work in collaboration to research innovative technologies and unlock new opportunities in the Carnarvon Basin.
"In so doing, we can further grow Western Australia as a global hub for LNG knowledge and technology as well as maximise the benefits of our industry to the community," Mr Hearne said
The Centre will be housed in UWA's CO2 Lab a world-class carbon-storage research facility within EZONE UWA's student hub and an important component of Australia's national efforts to achieve a carbon-reduced resources and energy economy. EZONE UWA is generously supported by foundation partners BHP and Woodside Energy. For more information on EZONE please visit www.uwa.edu.au/Facilities/EZONE .
The Centre will be led by the Chevron-Woodside Chair in Long Subsea Tiebacks, expected to be appointed early next year and Associate Professor Zach Aman will serve as Acting Chair.
Media references
Anna-lee Harry (UWA Media and PR Adviser)                                                       08 6488 7975
Tags
Channels

Media Statements — University News