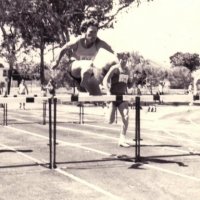 Thursday, 29 November 2018
2018 has been a big year for sport at UWA, with many of the University's sporting clubs celebrating milestone anniversaries.
The UWA Athletics Club is one of two clubs celebrating its 90th anniversary in 2018. The Athletics Club has a long, rich history, and is one of WA's oldest and most successful athletics clubs. The club hosted an anniversary gala earlier in the year, which you can read about here.
Earlier in the year, UWA Alumni produced a podcast on the history of the UWA Athletics Club – you can listen here .
The UWA Netball Club is also celebrating its 90th anniversary in 2018. Having consistently participated in the Perth Netball Association competition since 1961, the UWA Netball Club is one of the largest clubs participating in the competition. The Netball Club held an anniversary celebration in June, featuring talks from past players and featuring West Coast Fever Head Coach Stacey Marinkovich as a special guest.
The UWA Underwater Club is also celebrating an important anniversary this year, reaching 50 years. Originally formed around activities such as spearfishing and underwater hockey in 1968, the UWA Underwater Club is currently focussed on exploring the Western Australian coastline through SCUBA. The Underwater Club will be holding a 50th Birthday Party on the 8th of December at the UWA Watersports Complex.
2019 is set to be another bumper year for club anniversaries, with the UWA Boat Club celebrating its centenary, the UWA Rugby Club celebrating 90 years, the UWA Nedlands Football Club and the UWA Squash Club both celebrating 70 years, and the UWA Handball Club celebrating 10 years.
Media references
Gabrielle Morri
Graduate Officer - Marketing, Communication and Events
6488 3768
Tags
Groups

UWA Sport