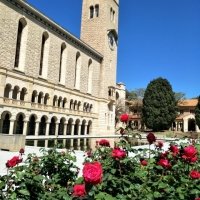 Wednesday, 28 November 2018
Researchers at The University of Western Australia have been awarded $13.65 million in Federal Government funding for 34 research projects ranging from a project to investigate the safety, efficiency and environmental impact of fracking to developing a new measure of autistic traits in adults and improving the social and economic outcomes for children of mothers in prison.
Federal Minister for Education Dan Tehan yesterday announced more than $380 million in funding for university research projects through the Australian Research Council (ARC).
UWA was awarded $10.26 million for 25 ARC Discovery Projects, including $410,000 for a team of researchers led by Professor Arcady Dyskin from UWA's School of Engineering to investigate fracking.
Professor Murray Maybery and his team from UWA's School of Psychological Science and Telethon Kids Institute were awarded $360,000 to develop a new measure of the six major dimensions of autistic traits in healthy adults.
Professor David Preen from UWA's School of Population Health is leading a team awarded $427,234 to identify how children's experiences of maternal incarceration shape their life course. The researchers say these children are one of the most vulnerable yet invisible groups in society but are rising in number.
Eight young UWA researchers were awarded almost $3 million in ARC Discovery Early Career Researcher Awards, including Dr Katie Attwell from UWA's School of Social Sciences who was awarded $405,751 to investigate mandatory child vaccination programs in Italy, France, Australia and California.
Dr Carl Blair from the ARC Centre of Excellence for Gravitational Wave Discovery was awarded $338,774 to investigate advanced technologies for next generational gravitational wave detectors, helping to maintain Australia's significant impact on the worldwide effort to harness gravitational waves.
And Research Fellow Dr Clare Sutherland, from UWA's School of Psychological Science, was awarded $404,956 to examine facial prejudice, a powerful psychological bias where people rely on inaccurate first impressions to guide key decisions, such as who to trust.
UWA also received $415,000 in Linkage, Infrastructure & Facilities Grants for a team of researchers led by Professor George Koutsantonis from UWA's School of Molecular Sciences to establish a new nuclear magnetic resonance (NMR) spectroscopy facility and enable testing of larger sample numbers in smaller quantities and support research in emerging areas, such as the study of drugs, new materials and soils. It is also expected to open up new opportunities in areas such as metabolomics and oil and gas processing and expand capacity to meet the increasing demand.
Media references
Jess Reid (UWA Media and PR Advisor)         08 6488 6876
Tags
Channels

Media Statements — University News