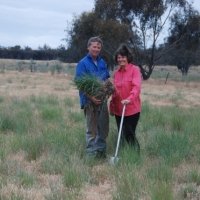 Tuesday, 27 November 2018
A study published by scientists from The University of Western Australia jointly with farmers is one of the first to address the role of temperate perennial grass pastures in contributing to soil organic carbon in south-western Australia.Intensive sampling was conducted on a trial site near Wagin consisting of a mix of temperate perennial and annual grasses that had been sown over a ten-year period. The results demonstrated the potential of perennial pastures for short-term gain in soil organic carbon stocks.
Emeritus Professor Lynette Abbott from UWA's School of Agriculture and Environment and Institute of Agriculture said temperate perennial grass pastures are currently an uncommon choice in this region but have the potential for future development.
"This farming system is unusual and novel for the region, and land managers Caroline and Rob Rex are acknowledged as early adopters and innovators," Prof Abbott said.
"They are engaged in a constant process of experimentation and adaptive management to trial practices that will improve perennial pasture production and soil health."
She said although officially credited carbon farming projects have had limited adoption in Australia, there are likely to be many innovative farmers engaged in farming practices that actively sequester carbon, not captured by national carbon accounting frameworks.
"For individual farmers, the co-benefits of 'carbon farming' such as improved soil health and improved pasture production are likely to be more important drivers of new practices than financial compensation for carbon credits," Prof Abbott said.
"For information on soil organic carbon to be used by farmers, it must be salient to farming goals which are unlikely to centre on carbon, but rather on the farming system, soil health, or co-benefits of soil carbon."
Co-author Dr Natasha Pauli from UWA's School of Agriculture and Environment and Institute of Agriculture said understanding farmers' views, perspectives, and questions surrounding the role of carbon in agriculture is vital for the long term and sound implementation of land management practices incorporating the role of carbon farming.
"At the end of the day, at the farm level farmers will take on almost the entire responsibility for climate change mitigation and adaptation in agriculture, and the adoption of new innovations exposes them to significant risk," Dr Pauli said.
"Taking into account farmers' needs for experimenting with management practices and their detailed local knowledge of why certain locations respond in different ways is paramount for developing longer term and larger scale approaches to improve soil health through novel agricultural practices."
The research was funded by the Australian Government Department of Agriculture and Water Resources through Action on the Ground. Action on the Ground provided funding to assist farmers and landholders (often in partnership with research, industry, NGOs, government, or grower groups), to develop on-farm trials and demonstrations.
The paper, A farmer-scientist investigation of soil carbon sequestration potential in a chronosequence of perennial pastures was published in Land Degradation and Development .
Media references
Emeritus/Professor Lynette Abbott (UWA School of Agriculture and Environment, and Institute of Agriculture) (+61 8) 6488 1002 / (+61 4) 17 918 276
Diana Boykett (Communications Officer, The UWA Institute of Agriculture)  (+61 8) 6488 3756 / (+61 4) 04 152 262
Tags
Channels

Research — Science

Groups

UWA Institute of Agriculture