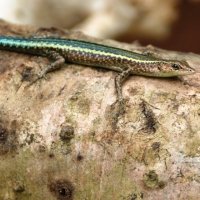 Monday, 26 November 2018
Amazing Master of Biological Sciences opportunity in the Conservation Biology specialisation.  This 2019-2020 project is aiming at providing critical evaluation of introduction of the blue-tailed skink ( Cryptoblepharus egeriae ) to the Cocos (Keeling) Islands as an alternative to reintroducing skinks back to their native habitat on Christmas Island.
The blue-tailed skink ( Cryptoblepharus egeriae ) is one of two endemic Christmas Island reptile species recently listed as Extinct in the Wild by the IUCN. The species was historically common on Christmas Island, but experienced significant declines that began in the mid 1990's. The cause of decline is thought to be due to predation by and competition with introduced species including yellow crazy ants, feral cats, black rats, giant centipedes, the Asian wolf snake and invasive geckos. Habitat loss and disease are also potential threatening processes. In 2009, 66 C. egeriae were taken into captivity on Christmas Island and in 2011 a secondary population was established at Taronga Zoo. Captive breeding has been very successful and currently about 1500 C. egeriae exist in captivity across these two locations. Threat mitigation of yellow crazy ants, cats and rats is underway on Christmas Island, but the continued presence of wolf snakes and centipedes (and the inability to control or eradicate these species) may mean that skinks can never be reintroduced back to their native habitat. Hence, finding solutions beyond captive breeding is critical for avoiding species extinction. This Masters project will focus on monitoring the trial introduction of C. egeriae to two islands in the Cocos (Keeling) group (Pulu Blan and Pulu Kembang) in 2019 and 2020, and providing critical evaluation of this option relative to wild release on Christmas Island. This trial is being led by Parks Australia, and is supported by the Threatened Species Recovery Hub National Environmental Sciences Program.
This project is best suited to completion over 1.5 years (three semesters), starting in February 2019. Students should enrol in the Conservation Biology specialisation of the Masters of Biological Sciences (coursework plus dissertation). Only students with a background in Conservation Biology (e.g. an undergraduate degree) will be eligible for the project, and previous fieldwork and boat experience would be advantageous.
Dr. Nicola Mitchell is the UWA project supervisor, and a Parks Australia ecologist is likely to be a second supervisor.  To seek further information, contact Dr Nicola Mitchell .
Media references
Dr Nicola Mitchell (Senior Lecturer, UWA School of Biological Sciences)  (+61)8 6488 4510
Tags
Channels

Research — Teaching and Learning

Groups

School of Biological Sciences