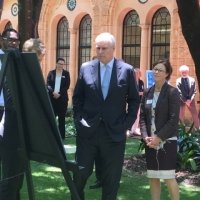 Friday, 23 November 2018
His Royal Highness The Duke of York today praised The University of Western Australia for its investment in science and engineering during a visit to the University's campus.
Recognised for his strong support of science, technology and engineering, The Duke was briefed on two of the University's key projects: UWA's Ezone Student Hub and the Square Kilometre Array (SKA) project.
When unveiling a foundation plaque for Ezone, an $80 million interactive space for collaboration between students, industry, alumni and staff that will prepare students for the engineering workforce of the future, HRH The Duke of York paid tribute to the engineering profession.
"We cannot forget that it is engineers who make the difference between where we are today and where we can be tomorrow," HRH said.
"They are the actual builders, the problem solvers of what is to come. It's only through investment in these sorts of facilities that the next generation is going to be able to learn the sorts of skills they are going to need.
"…I see this as a really encouraging sign not only in the faith of history but in the faith of engineering and science."
One of the largest scientific endeavours in history, the SKA project involves building the world's biggest radio telescope in Western Australia and southern Africa, and will expand our understanding of the Universe and drive technological change.
The Federal Government has already invested more than $400 million in the project with a further $293.7 million earmarked under the National Innovation and Science Agenda for the SKA.
Professor Peter Quinn, Executive Director of the International Centre for Radio Astronomy Research (ICRAR), provided an overview of ICRAR, a joint venture between Curtin University and UWA. The Duke also spent time talking to staff and students from ICRAR.
UWA Vice-Chancellor Professor Dawn Freshwater said the University was pleased to be able to provide HRH with an opportunity to meet researchers and students and learn about the exciting developments taking place in science and engineering.
"Our focus on world-class education powered by internationally acclaimed research and leading-edge technology ensures that the University is driving the development of a dynamic knowledge economy within the State, the nation and beyond," Professor Freshwater said.
"EZONE will provide our students with inspirational and collaborative environments in order to be able to harness their creativity and hone their leadership skills in solving those challenges.
"This new student hub is the biggest investment in teaching and research infrastructure in UWA's history and it's already becoming a landmark on our campus."
Media references
David Stacey (UWA Media Manager)                                          (+61 8) 6488 3229 / (+61 4) 32 637 716
Tags
Channels

International — Media Statements — University News