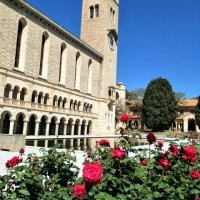 Friday, 16 November 2018
The Duke of York will visit The University of Western Australia on Friday 23 November.
The Duke is well known for his strong support of science, technology and engineering, and has shown particular interest in the University's involvement with the Square Kilometre Array (SKA) project, to build the world's biggest radio telescope in Western Australia and southern Africa.
The SKA is one of the largest scientific endeavours in history, and will expand our understanding of the Universe and drive technological change.
The Duke will also receive an overview of the International Centre for Radio Astronomy Research (ICRAR), a joint venture between UWA and Curtin University. ICRAR Executive Director Professor Peter Quinn will brief Prince Andrew about the project.
"It is a pleasure to have The Duke of York visit, and to show him the link between outback Australia and exploring our Universe," Professor Quinn said.
HRH will also have the chance to meet some of the staff and students working within ICRAR.
"We place a strong focus on turning our early career team members into world-class researchers, and this is a great opportunity to highlight their contribution," Professor Quinn said.
Following the briefing The Duke will unveil a foundation plaque for UWA's Ezone Student Hub, an $80 million interactive space for collaboration between students, industry, alumni and staff that will prepare students for the engineering workforce of the future. Prince Andrew will also meet UWA engineering students.
UWA Vice-Chancellor Professor Dawn Freshwater said HRH's visit to the University of Western Australia is a perfect fit with his key areas of activity.
"The Duke of York has a solid history of promoting youth and learning, particularly in the sciences, and we are excited that he has had the opportunity to visit UWA," Professor Freshwater said.
"This visit will enable us to showcase to the world Western Australia's contribution to the SKA, astronomy, technology and engineering."
Media representatives are invited to attend The Duke of York's visit but must register their attendance by COB Tuesday 20 November 2018. To register and receive further information email [email protected]
Media references
David Stacey (UWA Media Manager)                                          (+61 8) 6488 3229 / (+61 4) 32 637 716
Tags
Channels

Events — International — Media Statements — University News