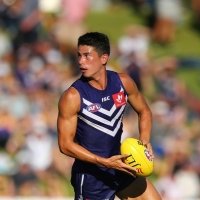 Wednesday, 14 November 2018
Bailey Banfield is looking to break from the tag of being an up-and-coming player in 2019, with the 20-year-old targeting an improvement in his strength and endurance for the pre-season.
Banfield, who addressed the media ahead of the club's second week of pre-season training for first to fourth-year players, was asked about his goals for the summer.
"I think the endurance side of it (is key), being able to run out games and just take that to the next level," Banfield said.
"I want to build my body so it's more of an AFL footballer's body, not so much of that 'kid coming through'.
"It's hardening up and all of that side of it."
On top of gaining 20 games experience in 2018, Banfield grew in a literal way during his first year in the AFL system.
He now stands at 190cm and weighs in at 90kg - approximately five kilograms heavier than when joining the club.
For comparison, Banfield is now the same height as midfield gun Nat Fyfe, however, Fyfe tips the scales at two kilos heavier.
"I've grown a couple of centimetres, so that will be nice if that continues," Banfield said.
"I think I've put a couple (of kilograms) on. That's a product of being in the system and going to the gym so frequently with our strength and conditioning team and the support they provide us.
"We've got our program that we follow through the off-season, just to make sure we're maintaining our fitness so we can come back into it here and hit the ground running.
"I've been doing that program over the off-season and it's just about getting those kilometres in your legs and you see that natural improvement as a result."
After being selected by Fremantle with pick no.5 in the 2017 NAB AFL Rookie Draft, Banfield signed a two-year senior contract near the end of the 2018 season.
Banfield said his main goal was to retain his spot in Fremantle's best 22 in 2019 but was also hopeful of continuing his role in the midfield.
Banfield was often utilised by senior coach Ross Lyon as a tagger, taking on and limiting the impact of the oppositions best players.
"I'll go wherever Ross puts me. Hopefully, I'll be in the team and if I can get a run through the midfield that will be awesome," Banfield said.
"I think that lockdown role gives me versatility, where Ross can play me forward or through the midfield as a normal midfielder or there in a lockdown role.
"Having that versatility helps me get selected every week. If I can keep developing all these different roles it adds more strings in my bow and, hopefully, keeps me in the team."
Media references
Originally published by Fremantle Dockers
Gabrielle Morri
Graduate Officer - Marketing, Communication and Events
6488 3768
Tags
Channels

Sport

Groups

UWA Sport