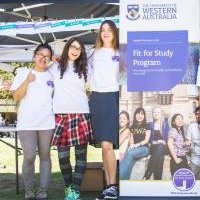 Monday, 12 November 2018
Fit for Study (FFS) recognises that positive student engagement in academic study requires a certain level of physical, psychological, emotional and social wellbeing, and that individuals can be positively influenced by the extent to which the University offers an enriched, supportive learning environment.

FFS has been recently recognised at the UWA Excellence in Teaching Awards ceremony for its outstanding contributions to student experience and services including supporting the learning, development and growth of its 27,000-strong student population.

The FFS program has also been nominated for the Australian Awards for University Teaching (AAUT), which celebrate and reward programs and practices that support students to improve learning, and promote teaching excellence within higher education.

FFS provides access to a wealth of relevant and up-to-date information, course advisory services, language and learning support, and counselling and disability support through which it facilitates students' personal growth and development. It encompasses a suite of needs-based, innovative and complementary projects that have been developed under the core focus areas of alcohol and other drugs, mental health, sexual health, sexuality and relationships and peer education. FFS's integrated, contemporary and inclusive strategies are underpinned by monitoring and evaluation, enabling continuous quality improvement.

The impact of FFS is evidenced by persistent, positive evaluation data, endorsement from students, staff and stakeholders, and continued expansion of the Peer Education Team. In addition, almost 8000 students have completed Fit for Study training programs, its impact reflected in the positive feedback received by staff and students.

"Thank you for a fantastic course. It was really great how you incorporated personal experiences alongside research on mental health issues in Australia. As Learning Skills Advisors, we sometimes deal with students in times of crisis, and this is the first time we've felt we have the knowledge and confidence to respond appropriately." UWA staff member

"The best thing about volunteering with the Health Promotion Unit is that you actually get involved in university life rather than just studying." UWA student

"I was impressed by the energy, creativity and direction of travel, particularly in relation to the services you offer to students and the impact this can have on the student journey through higher education." Visiting UK academic

FFS's success, growth and sustainability has been achieved through extensive collaboration and a strong strategic vision. The decision to prioritise health issues among UWA students and systematically establish projects has required thorough planning and patience. The ability of FFS to evolve and proactively address emerging health issues ensures it remains contemporary and relevant. FFS positively impacts UWA and broader communities, and continues to support students to remain fit for study so they can reach their full potential.

"The strength of the program is its strong partnership approach. Our longstanding collaboration with the University, staff and students, the wider University community, including our residential colleges, and our State and national partners has been a significant factor in our success." Tricia Wylde, Manager Health Promotion, UWA

FFS also attracts students from all Western Australian universities seeking work experience and practicum placement opportunities. Volunteering as a Peer Educator allows students to consolidate coursework theory with experiential learning, while benefiting the health of the student population. Through a combination of training and practical opportunities, students are supported to develop professionalism, stronger interpersonal skills and confidence.

Significant projects from the program have been a key enabler of Student Life objectives as the program encompasses faculties, student groups and residential colleges. Key objectives derived from the FFS program include building health-related knowledge and skills, improving policies and environments that encourage healthy lifestyles, and providing quality services and programs supported by monitoring, evaluation and research.

FFS was the first program of its kind in Australia to address tertiary student health and its link to retention and academic achievement. The program has been independently recognised through multiple grants and awards for excellence in innovation and dedication to student health and wellbeing.

For more information, visit the Fit for Study website or contact [email protected] .
Tags
Groups

Education Quarterly