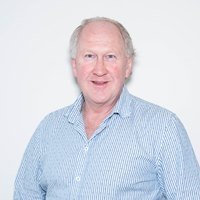 Monday, 12 November 2018
Professor Peter Merrotsy from the Graduate School of Education is known for bringing quirky yet historically and culturally relevant objects to class.

Peter teaches how to teach mathematics curriculum to Master of Teaching students through innovative teaching methods complemented with lots of ideas drawn from history, engineering and arts.

The aim, Peter says, is to get his students to feel and experience mathematics – often leading to those big 'Aha!' moments in class.

"I am after the big moments in maths, where my students are able to remember real-world references and replicate them for their students who plan to become mathematics teachers themselves," Peter says.

For Peter, who has recently received the UWA Excellence in Teaching Award and been nominated for the national Australian Award for University Teaching, using real-world references are essential to explaining the challenges teaching-how-to-teach mathematics can bring.

As an educator, Peter shows exceptional leadership through his passionate contribution to advancing the teaching profession and is continually recognised through University-level awards.

This is truly a testament to his work which centres on creativity, innovation and dedication to teaching in the field of mathematics.

By using memorable teaching techniques and real-world references, Peter ensures his teaching style will stick with his students.

"I create a community of enquiry among my students where they are able to work collaboratively, solve puzzles, use popular cultural references, access copies of historical works, and physically interact with replicas of artefacts to develop a conceptual understanding of the mathematical content.

"Some examples I bring to class include replicas of ancient artefacts, such as a Babylonian clay tablet and the classical Chinese dissection puzzle Tangram, and we explore their relevance to maths in the modern age.

"The principles of mathematics are still as relevant as they were thousands of years ago. The concepts were approached from a different perspective, yet can still be applied today.

"I get students hitting their heads, metaphorically, with mathematics. This learning experience becomes a transformative one for my students, as well as for me. My aim is for their teenage and adolescent students to enjoy the same transformative experience," he says.

Since most of Peter's students have a degree in mathematics or science, or have experience in applying mathematics in industry or research, it is often challenging to 'unlearn' the teacher-and-textbook style of learning mathematics.

This is why Peter employs a unique and innovative approach to learning and teaching – one that introduces a cultural context to inspire and support adult learning. Added to this is his support for negotiated learning, use of rich mixed media, and rewarding creativity – all designed to ignite the spark for learning.

In WA alone, approximately 25 per cent of mathematics teachers with no mathematics or science background are educating our students in primary and secondary schools.

The benefits of investing now in how to teach mathematics to future educators are long-term and wide-ranging – especially if we want to see real change occurring.

Peter is, however, no stranger to lobbying for change in education.

He spent 18 years teaching secondary mathematics in a low socio-economic rural community in New South Wales, before joining the School of Education at the University of New England, where his research focused on gifted students, in particular gifted Aboriginal students.

While teaching, Peter spent a considerable amount of time lobbying for early university access pathways for high-ability school students from rural communities, with success.

Many high schools have since introduced such pathways to ensure equity across the system and this is something Peter is particularly proud of. He has also continued his work with students from low socio-economic rural communities in WA.

While his focus here is to make the learning and teaching of mathematics liberating and fun, it is pleasing to see passionate educators like Peter not only committed to teaching excellence in higher education, but firmly committed to making serious inroads in improving the learning needs of children in rural and remote communities.
Tags
Groups

Education Quarterly