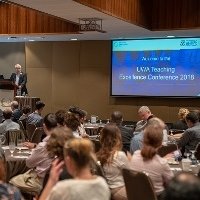 Monday, 12 November 2018
UWA's inaugural Teaching Excellence Conference and Showcase was a resounding success, with more than 180 staff, guest speakers and invited local school representatives participating in two days of professional development, networking and celebration.

Conference sessions covered key themes including Learning standards for moderation, Flipped classrooms, The Higher Education Academy Fellowship Scheme, Communities of Practice (CoP) and Work Integrated Learning (WIL) from colleagues locally, nationally and internationally. The showcase featured 56 poster submissions for all UWA faculties and the School of Indigenous Studies, highlighting teaching initiatives that were selected for their demonstration of learning and teaching excellence and innovation. All 56 of these poster submissions will feature in a publication due for release in December this year.

We are delighted to be able to share some highlights from the conference and some additional interviews with our guest speakers with readers of Education Quarterly.

Guest speaker interviews
Power point slides
UWA Teaching Excellence Awards
This was a stellar year for teaching excellence, with a large number of high-calibre winners across all categories. Congratulations to all award winners , including the 10 UWA nominees for the Australian Awards for University Teaching (AAUT).

Thank you to everyone who attended and participated. Photographs from the award ceremony and conference are available in our image gallery .

We look forward to welcoming you all to next year's conference.
Tags
Groups

Education Quarterly