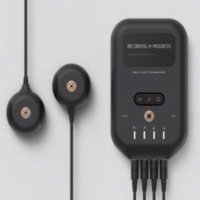 Thursday, 8 November 2018
A University of Western Australia research project that uses acoustic sensing technology to detect gut disorders, and could replace the usual invasive colonoscopy method, has won a top honour in the Innovator of the Year Awards.
The awards, issued by the State Government, acknowledge and reward exceptional Western Australians who have developed an outstanding innovative product, technology or service.
Irritable Bowel Syndrome affects 11 per cent of the world's population.  The current method to diagnose it through a colonoscopy is time-consuming, invasive to patients and costly to the health system.
The UWA research team, headed by Nobel Prize laureate Professor Barry Marshall, has developed an acoustic belt that listens, records and analyses gut noises linked to gut disorders for faster and more effective diagnosis.
UWA Professor Dawn Freshwater said creating an invention that could change the way patients are treated in the future was a remarkable achievement.
"This device has the potential to vastly improve patient care and result in huge cost savings to the health care system," Professor Freshwater said.
"I congratulate Professor Marshall and the UWA research team on creating something that will be of immense benefit to the community and health care practitioners."
Through the Innovator of the Year awards program the UWA team will receive commercialisation training, mentoring and advice on business development and finance to help commercialise their invention.
For more information on the Innovator of the Year Awards visit www.newindustries.wa.gov.au/ioty-2018
Media references
Jess Reid (UWA Media and PR Advisor) 08 6488 6876
Tags
Channels

Awards and Prizes — Media Statements — University News

Groups

Faculty of Health and Medical Sciences