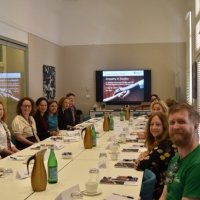 Thursday, 8 November 2018
The UWA Medical Humanities Network together with the UWA Institute of Advanced Studies held a symposium on Friday 26 October exploring "Empathy in Society". The interdisciplinary symposium highlighted current approaches to empathy research including within the context of medicine and healthcare, with a view to inform how the practice of empathy may be taught and integrated into medical and health professions education.
Over the last decade, a substantial body of research has argued doctors with a more empathetic approach to their practice can be linked to greater patient satisfaction and outcomes, decreased physician burnout, and a lower risk of malpractice suits and errors.
Empathy is considered by some, a cognitive skill that can be taught rather than a personality trait, and so empathy training is increasingly being incorporated into medical courses around the world with the aim of producing more empathic, compassionate and well-rounded doctors and allied health professionals. With increasing automated technology, computerisation and the practice of 'fast' medicine, discussion of how empathy can inform better healthcare is more relevant than ever.
The symposium reached capacity registration and brought together experts and researchers from a range of interdisciplinary backgrounds across UWA, including medicine, science, allied health, psychology, history, law, literary studies and philosophy.
Professor of Psychology, Nick Haslam from the University of Melbourne delivered the keynote address on the many faces of empathy. Associate Professor Nahal Mavaddat from the UWA Medical School and Sally Robertson from the School of Social Sciences addressed the role for greater empathy towards patients with medically unexplained symptoms. Dr Karen Martin from the School of Population and Global Health discussed the future of transforming our schools through promoting empathy, compassion and generosity.
The event was an initiative of the UWA Medical Humanities Network – a university wide professional network with international links that provides an opportunity for educators and researchers engaged in medicine, allied health sciences and dentistry and those in the humanities, arts, music, psychology and social sciences to exchange ideas, share information and opportunities, and establish collaborative partnerships. If you are interested in learning more about the network contact Associate Professor Nahal Mavaddat . For further information about the new major in Health Humanities commencing in 2019, contact Professor Sandra Carr .
Tags
Groups

Faculty of Health and Medical Sciences