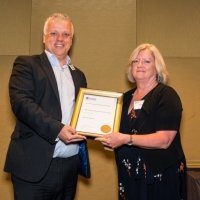 Wednesday, 7 November 2018
On 1 November Professor David Sadler, Deputy-Vice Chancellor (Education), and Professor Peter Dean, Pro-Vice Chancellor (Education), announced the winners of the UWA Teaching and Leaning Awards, with two academic staff from the Faculty among the winners.
Professor Sandra Carr and Associate Professor Christopher Etherton-Beer were both awarded Citations for Outstanding Contributions to Student Learning. The award recognises and rewards the diverse contributions made by individuals and teams to the quality of student learning in a specific area of responsibility over a sustained period.
Professor Sandra Carr, Head of Health Professions Education within the School of Allied Health was acknowledged for innovation, leadership or scholarship that has influenced and enhanced learning and teaching and/or the student experience. Professor Carr established the suite of postgraduate courses in Health Professions Education in 2010, expanded the influence of these courses through the creation of short intensive courses in clinical teaching and supervision for local, national and international participants in 2012, and in 2014 commenced the Scholarly Activity in Medical Education where MD students complete units in health professions education as part of their degree.
Christopher Etherton-Beer is an Associate Professor in Geriatric Medicine at UWA and won this award for the development of curricula, resources or services that reflect a command of the field of study. Assoc/Prof Etherton-Beer has research interests in dementia and related chronic conditions, along with pharmaco-geriatrics, stroke, aged care and medical education.
From the total list of UWA winners in this category, Professor Carr and Assoc/Prof Etherton-Beer were also nominated for the 2018 Australian Awards for University Teaching (AAUT) Citations for Outstanding Contributions to Student Learning. The results of these awards will be announced in 2019.
Ms Lucia Ravi, a former staff member of the J. Robin Warren Library who now works with the Educational Enhancement Unit, won the Citation for Outstanding Contributions to Student Learning Non-Faculty UWA Award, the only non-academic staff member to receive an award.
Media references
Emily Stone , Marketing and Communications: +61 8 6457 7365
Tags
Groups

Faculty of Health and Medical Sciences